Hutchinson, 39, played in his team record 101st game in the 2-1 loss to Morocco, which very well could be his last for Canada
Reviews and recommendations are unbiased and products are independently selected. Postmedia may earn an affiliate commission from purchases made through links on this page.
Article content
DOHA, Qatar — Atiba Hutchinson was fittingly the last player out of the locker room and through the media mix zone at the Al Thumama Stadium on Thursday, after Canada's tenure at the 2022 FIFA World Cup officially came to an end.
Article content
Hutchinson, 39, played in his team-record 101st game in the 2-1 loss to Morocco, which very well could be his last for Canada.
Article content
"I don't know, I really need to put my head down and really think things through," Hutchinson said. "I'm going to have a good conversation with family members and see if this is it, if this is it for real. I'm very close, but I haven't made my decision as of yet. I'll let this one get settled and then think about my decision."
Article content
The talented midfielder, who was the only player alive the previous time Canada played in a men's World Cup, 36 years ago, came millimetres from tying the game when his header off a corner kick bounced down off the inside of the crossbar and caught the back of the goal line.
It would have been a fitting way for Hutchinson to go, capping off more than two decades of service for his country, mostly through some very lean years for the program.
Article content
"I thought it was a goal," Hutchinson said. "There was someone between me and the ball and, when it hit the crossbar, I thought it was in. Then I saw the guys continue to play. It wasn't to be, not only on that goal, but for us and throughout this tournament not to get any points. That's football and we'll learn from the things we need to learn from."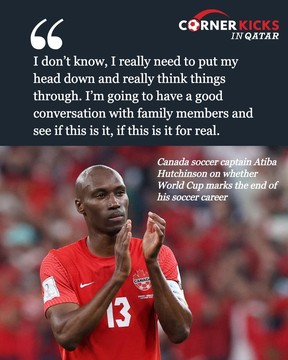 If this is indeed it for Hutchinson, he will have concluded his international career with nine goals and run countless kilometres for his country. If anyone deserved to play in a World Cup, it was Hutchinson. The Brampton, Ont., product has been with the Canadian national program since 2001, playing with the Under-20 and Under-23 teams before graduating to the senior team in 2003.
Article content
"It was everything to me," Hutchinson said of his World Cup experience. "Just the buildup towards it, just to see how the country rallied behind us and gave us their full support and it grew in numbers. It was a special moment. I didn't really know what to think of it and really have an understanding of how it would be when we were going out there onto the pitch, it was everything and more.
"Although we didn't get any points, which we're all disappointed about of course, just to experience this and to play the type of games we played and the way we played was amazing for me."
The experience was worth coming back for Hutchinson, who was not sure whether he had another World Cup qualifying campaign in him after the disappointments of 2006, 2010, 2014 and 2018. Fortunately for Canada, he was talked into coming back for one last kick at it, with the most talented men's team Canada has ever fielded.
Article content
"I talked to Atiba, he wanted to retire before the qualifiers and put his boots up on the wall," Canada goalkeeper Milan Borjan said. "But we didn't let that happen. We wanted to let him experience this. After 36 years, we wanted him coming to this big stage."
Hutchinson played in 11 of Canada's 20 qualifying games to get to Qatar, scoring two goals, and got into all three matches at the tournament. Wanting to play in a World Cup is the reason he put on the Canadian jersey in the first place and there were times Hutchinson believed it was never going to happen.
"These are the moments you've been dreaming about since you were a little kid, watching World Cups when you were younger and just envisioning yourself being on that pitch, touching the ball and playing in these full stadiums," Hutchinson said. "For me, it was something that I really wanted to do and put that jersey on my back and represent Canada on the biggest stage. I'm proud of myself and I'm extremely proud of everyone involved, every single player, every staff member, everyone that has been behind us over the years.
Article content
"We have to be proud of what we've done, apart from not getting any points, we came out here and played fearless, that's what we really wanted to do and show what we were made of. I think that's what we did. We enjoyed our football out there, we worked for each other, each and every one of us and I think we represented our country very well."
In the end, Canada did not earn any points for the second time at a World Cup, but they did score two goals, which is something the 1986 team was not able to accomplish.
Alphonso Davies scored the first goal in the loss to Croatia, getting to a cross at the far post from Tajon Buchanan and powering in a header, which gave Canada a 1-0 lead 67 seconds into the game. Canada would go on to lose 4-1 in the contest, but had some bright moments in the second half when trying to battle back.
Article content
In the opening game against Belgium, Canada had the run of play, attempting 21 shots on net to nine for the Europeans. Despite its dominance, Canada fell 1-0 on a goal just before half time.
Canada had Morocco holding on for dear life at the end of the game on Thursday. Hutchinson's near miss was one of numerous opportunities the team had in the game, particularly when he came on a substitute.
"Unfortunately, we didn't get results, which is what everybody looks at, at the end of the day," Hutchinson said. "But I think we all need to be proud and we'll continue to get better and better from here. It's been 36 years since we've played in a World Cup, so just getting this experience will set us up very well for the next time we come around to playing in a World Cup."
Article content
Hutchinson won't be part of that next World Cup team, but he will be remembered as one who helped set the foundation for future success.
"This time has gone by so fast," Hutchinson said. "I've enjoyed every moment of it. I wish it could have gone a different way, I wish we would have gotten results and made everybody that much prouder of us, but I'm very proud."
Email: dvandiest@postmedia.com
On Twitter: @DerekVanDiest
Postmedia's soccer expert Derek Van Diest is on the ground in Qatar to cover every kickoff of the 2022 FIFA World Cup. Subscribe today and get access to all his coverage.
Looking for some World Cup-related merchandise? Our Shopping Essentials team has rounded up your best options — no matter what team you support.