Article content
COVID, COVID, we're not finished with COVID.
Article content
The government led by Premier Danielle Smith is back talking about COVID.
Article content
Oh joy.
They're talking about COVID this day so they don't have to talk about it again, until well after the May election.
They can't be finished with COVID, something even some in the UCP government ranks would like to see.
You see, Smith ran and, in part, won the UCP leadership being real pissed off about the provincial government's actions during the pandemic and signing up folks equally riled up about restrictions to vote for her.
They can't be finished with COVID because Smith vowed she would give the unvaccinated protection from discrimination under the province's human rights law.
That's not happening because saner souls scuttled that lame brainwave but apparently some people thought something else needed to take its place.
Article content
As for talking, the Smith government didn't do much of it Thursday.
They sure as hell weren't going to see Smith up at the podium going on about COVID and getting peppered by puzzlers from the newshounds.
Smith waxing poetic on the virus is almost guaranteed to end in a whole mess of ugly with an embarrassing clarification or two to follow.
On Thursday, the Smith crowd pump out a short press release.
Preston Manning, of the Reform party glory days a generation and a half ago, will be paid a whopping $253,000 to head up a panel of deep thinkers to spend $2 million to look at "the legislation and governance practices" used by the Alberta government during COVID-19 and to recommend ways to do better.
Article content
What changes to Alberta laws should be made?
Let's see. Manning will recommend who will sit on the rest of the panel.
The premier will get the thumbs-up on panel members.
The panel, recommended by Manning and approved by the premier, will report by Nov. 15, long after Albertans have voted on whether or not to keep Smith.
These hand-picked big brains will look at what went on during the public health emergency, mental health issues, the measures put in place, the economic effects, and yes, the protection of rights and freedoms.
How many of you can guess what this report will say?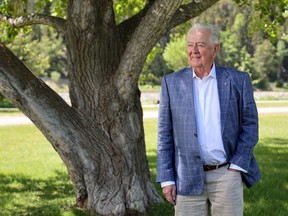 Smith has spoken about public health officials letting us down with a lot of bad information.
Dr. Deena Hinshaw, Alberta's former top public health doc, was shown the door.
Article content
The board of Alberta Health Services was fired.
The premier is clearly in the no-restrictions camp when it comes to the pandemic and a big fan of two American governors singing from the same songsheet, South Dakota's Kristi Noem and Florida's Ron DeSantis.
Who can forget Smith's first press conference as premier and her views of the unvaccinated.
"They have been the most discriminated against group I've ever witnessed in my lifetime. That's a pretty extreme level of discrimination we have seen."
On the same day from Smith: "Our rights and freedoms have been tested. I will ensure, as head of this government, rights and freedoms are protected and will never be taken for granted again."
Then there is what Smith or her people did or did not say to prosecutors about cases involving charges related to COVID.
Article content
Anyway, Albertans will be able to say their piece on "how the government can better respond to future health emergencies while mitigating impacts on the social well-being, mental health, civil liberties and livelihoods of Albertans."
Sadly, for those who love circuses, there will be no public hearings.
Could you imagine hearings on COVID where everyone and anybody would come out of the woodwork?
For many of us, there is just fatigue at the thought of any more chatter about COVID, that is when people are also not fatigued by the thought of a debate on an Alberta pension plan, Alberta provincial police … you get the picture.
But again, the Smith government seems to be saying we won't have to deal with all that until after election day, in a little more than four months.
As luck would have it, a well-known conservative texted your scribbler just before this column was being put to bed: "Why the hell is there more COVID crap? New committee and Preston? Ridiculous."
The word "hell" and "crap" were not used. The lingo was a little more colourful.