Article content
And then there were four …
Article content
Four unbeatens remaining in the NCAA's football chase for the final four. Those being the No. 1 Georgia Bulldogs, the No. 2 Ohio State Buckeyes, the No. 3 Michigan Wolverines and the No. 4 TCU Horned Frogs — all 9-0.
Article content
Looking back, there has never been a College Football Playoff with four programs boasting perfect records.
Article content
And that's not in the cards this year, either.
Because by season's end, at least one will be hung with a loss, with Ohio State and Michigan set to meet in upcoming regular-season action.
So what are the chances, then, of three perfect runs into the final four this year?
History tells us it's unlikely.
Only twice in the eight-year history of the CFP have three teams finished the regular slate without a loss — that in both 2018 and 2019. 
Article content
OK, then, how about two perfect programs for this year's playoff?
Only one previous year has seen two unbeatens make the final four — and that deserved an asterisk with 6-0 Ohio State having played just half-a-season due to 2020 COVID peculiarities.
The best bet is one team left unscathed heading into the CFP, given that it's happened four times.
Let's breakdown the schedules of our fearsome foursome before those final CFP Rankings decide the final four on Dec. 4th's selection day:
Georgia — @ Mississippi State (6-3), @ No. 24 Kentucky (6-3), vs. Georgia Tech (4-5) and potentially the SEC championship game. Synopsis: Vulnerable to fall Saturday in crazy Stark Vegas after last week's muscle flex to topple then-No. 1 Tennessee (8-1). Perhaps the Bulldogs will go in full of themselves after a much-celebrated victory. The SEC finale is never easy either.
Article content
Ohio State — vs. Indiana (3-6), @ Maryland (6-3), vs. No. 3 Michigan (9-0) and potentially the Big Ten championship game. Synopsis: In reality, it's all about that Nov. 26 season finale against the arch-rival Wolverines, but the Buckeyes are prone to stumble when they shouldn't. However, maybe that's behind them after escaping a tight one in last week's 21-7 edge of host Northwestern (1-8).
Michigan — vs. Nebraska (3-6), vs. No. 21 Illinois (7-2), @ No. 2 Ohio State (9-0) and potentially the Big Ten championship game. Synopsis: See above with Ohio State. It's the same Nov. 26 deal for Big Blue. One of them has to lose, and good chance that'll be the visitors — them being the Wolverines this year — in college football's greatest rivalry.
Article content
TCU — @ No. 18 Texas (6-3), @ Baylor (6-3), vs. Iowa State (5-4) and potentially the Big 12 championship game. Synopsis: Two tough road games ahead for the Big 12 surprise side, which hasn't really faced hardship on the road (sorry, Kansas). Well, it gets hard now for the Horned Frogs. Really hard.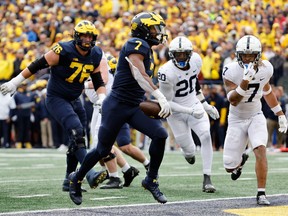 SECOND DOWN
Our synopsis? We'd love to see Michigan, TCU, No. 5 Tennessee (8-1) and No. 12 UCLA (8-1) make up the CFP this year. What a fresh four that would be. But what we think will happen is a final four of Georgia, Ohio State, No. 6 Oregon (8-1) and one of Michigan, Tennessee or — say it ain't so — No. 9 Alabama (7-2) … Yes, if Alabama somehow ends up in the SEC finale against Georgia and wins, it would be pretty hard to keep Nick Saban & Co. out of the final four given both its drops came to highly ranked foes in overtime. That said, a loss is a loss is a loss. And two losses? Well, that's always been a dagger for CFP hopefuls. No two-loss team has ever been voted into the final four … Further to that, 'Bama's OT loss last week to No. 7 LSU (7-2) puts it well behind the eight-ball to win the SEC West, with both LSU and No. 11 Ole Miss (8-1) bettering its 4-2 conference record thanks to respective 5-1 and 4-1 marks … Despite its loss to Georgia last week, Tennessee is in slightly better shape but not because it can win the SEC East — that's highly unlikely because of Georgia's 6-0 conference mark ahead of Rocky Top's 4-1 record. Instead, it's because its lone loss has come to the champ … But that said, it's rare for teams that don't play in conference championship games — such as Tennessee and Alabama in all likelihood this year — to make the playoff. In fact, it's only happened five times — twice by independent Notre Dame, which doesn't have a conference championship to play in, and once each by the NCAA top brands in Alabama, Georgia and Ohio State. Despite all the hype this year, Tennessee likely doesn't have the caché to join that group if it's in such a mix.
Article content
THIRD DOWN
One more past CFP figure is that 2017 was the only year all four CFP combatants were marked with a loss ahead of the final four. That's unlikely to happen this year because of the two Big Ten teams still being perfect through 10 weeks … Tough to recall if we've ever gone so deep down the rankings when talking about the playoff picture this late into the season. Yes, UCLA — at No. 12 is still in the conversation — since it has No. 8 USC (8-1) and perhaps Oregon — in a potential Pac-12 finale match-up — on its schedule … That said. No. 10 Clemson (8-1) isn't likely to be a one-loss candidate to make the CFP after losing so badly to enigmatic Notre Dame last week. It just doesn't have the schedule — or pass the eye-test — to make up for it … After eight-plus years of these CFP Rankings this is the very first week both Clemson and Alabama have been slotted outside the top-four.
Article content
FOURTH DOWN
The key Saturday games in Week 11 are: Arkansas hosting LSU (noon ET); Alabama at Ole Miss (3:30 p.m. ET, CBS); Georgia at Mississippi State (7 p.m. ET); No. 25 Washington (7-2) at Oregon (7 p.m. ET, FOX); and TCU at Texas (7:30 p.m., ABC) … Star QB Grayson McCall of Coastal Carolina (8-1) will be lost for the rest of the regular season with a foot injury. That's a boot to that program's Group of Five push for a New Year's Day bowl berth … Who's it going to be as next head coach for Auburn (3-6)? Lane Kiffin shuffling over from No. 11 Ole Miss (8-1)? Hugh Freeze looking for SEC redemption but having to leave No. 19 Liberty (8-1), a comfy spot, to do so? Or Deion Sanders leaving his 'Prime Time' gig at Jackson State (9-0)? They're all success stories where they currently are, but any move to Auburn would come with quite the payday — and perhaps quite the headache. Just ask former head man Bryan Harsin.
Article content
http://www.twitter.com/ToddSaelhofPM
COLLEGE FOOTBALL PLAYOFF RANKINGS
Rank Team (last week) Record
1. Georgia (3) 8-0
2. Ohio State (2) 8-0
3. Michigan (5) 8-0
4. TCU (7) 8-0
5. Tennessee (1) 8-1
6. Oregon (8) 8-1
7. LSU (10) 7-2
8. USC (9) 8-1
9. Alabama (6) 7-2
10. Clemson (4) 8-1
11. Ole Miss (11) 8-1
12. UCLA (12) 8-1
13. Utah (14) 7-2
14. Penn State (15) 7-2
15. North Carolina (17) 8-1
16. NC State (22) 7-2
17. Tulane (19) 8-1
18. Texas (NR) 6-3
19. Kansas State (13) 6-3
20. Notre Dame (NR) 6-3
21. Illinois (16) 7-2
22. UCF (25) 7-2
23. Florida State (NR) 6-3
24. Kentucky (NR) 6-3
25. Washington (NR) 7-2
NR — not ranked
GAME TO WATCH
#4 TCU @ #18 TEXAS (-7)
Saturday, 7:30 p.m. ET, in Austin, Texas, ABC
Article content
Not a lot of line respect for 9-0 TCU, and Texas as a fave in feature tilt rarely comes through.
PICK: TCU
BEST BETS
ARMY @ TROY (OVER/UNDER 46)
Saturday, 3:30 p.m. ET, NFL Network
Always low-scoring tilts with run-happy Army, especially with Troy able to stop the triple-op.
PICK: UNDER 46
(-12) #9 ALABAMA @ #11 OLE MISS
Saturday, 3:30 p.m. ET, CBS
Angry 'Bama, with its top-end run defence, gets off the mat against a run-heavy offence.
PICK: ALABAMA
MARYLAND @ PENN STATE (-10)
Saturday, 3:30 p.m. ET, FOX
Penn State's got a run defence to replicate what Wiscy did last week to Maryand. Stuff 'em.
PICK: PENN STATE
LAST WEEK: 1-3
2022 RECORD: 23–21-1