'A cream sauce that forgets all about heavy cream'
Reviews and recommendations are unbiased and products are independently selected. Postmedia may earn an affiliate commission from purchases made through links on this page.
Article content
Our cookbook of the week is I Dream of Dinner by Ali Slagle. Tomorrow, we'll feature an interview with the author.
Article content
To try another recipe from the book, check out: Bacon jalapeño smash burgers; and crispy potato, egg and cheese tacos.
Ali Slagle dedicates a glorious section of I Dream of Dinner's pasta chapter to butter as a verb. "A noodle sauced with nothing more than butter and cheese is kind of the best sometimes," she writes. "But there are many, many ways to butter noodles."
This Alfredo sauce is one such way, made with pasta water, Parmesan, and equal parts buttered noodles (long ones such as fettucine or linguine) and broccoli rabe. You might think there's something missing from this brief ingredient list. But contrary to popular belief, a classic Alfredo doesn't gain its creaminess from a carton.
"A lot of people think that Alfredo is a cream sauce. But traditionally, it's made with just pasta water, Parmesan and butter," says Slagle.
Article content
"And I think it's a worthwhile thing to know that you can make a creamy sauce without cream. Because oftentimes, heavy cream (goes) bad too quickly and you can make a creamy sauce with things that keep a little longer."
Here, Slagle also makes good use of the pasta pot, using it to cook both the noodles and broccoli rabe.
"I wanted to incorporate some semblance of nutrition," she adds, laughing. "And I really love bitter greens. I think it cuts the richness really nicely. And I also like that you can just throw it in the pot of boiling water."
Article content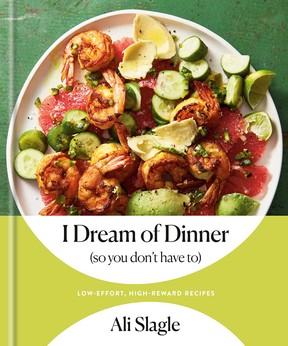 50/50 BUTTERED NOODLES & GREENS
Butter
Broccoli rabe
Parmesan
Long noodles
Step 1
Bring a large pot halfway filled with salted water to a boil. Cut 8 tablespoons butter (1 stick) into 8 pieces and stick it back in the fridge. Thinly slice 1 large bunch broccoli rabe (about a pound/454 grams), leaving the blossoms whole. Finely grate 1 cup Parmesan (2 ounces/57 grams).
Step 2
Add 1 pound (454 grams) long noodles (fettuccine, linguine) to the boiling water and cook until al dente. It may seem like a snug fit and that's okay—you want extra-starchy pasta water. Two minutes before the pasta's done, add the broccoli rabe. When the rabe and pasta are al dente, reserve 1 cup pasta water and then drain.
Step 3
Return the pot to the stove over medium-high and add the butter. Cook, swirling occasionally, until the foam subsides, the milk solids turn golden brown, and it smells nutty and toasty, 3 to 4 minutes. Add the pasta and the Parmesan and toss until the cheese has melted. Add pasta water a little at a time until the noodles are coated in sauce, 2 to 3 minutes (you won't need all the pasta water). Season to taste with pepper and more Parm. (P.S. You just made Alfredo, which never used to have heavy cream.)
Article content
Serves: 4
MORE CLASSIC BUTTERED NOODLES
Butter + heavy cream + Cheddar (mac and cheese)
Butter + crushed peppercorns + Parm + pecorino (cacio e pepe)
Butter + garlic + red pepper flakes + white wine + parsley + lemon (scampi)
Whole peeled tomatoes + butter + onion (Marcella Hazan's tomato sauce)
Butter + garlic + shallot + capers + lemon + parsley (piccata)
Shallots + white wine + white wine vinegar + butter + lemon juice (beurre blanc)
Recipe and image reprinted from I Dream of Dinner. Copyright ©2022 by Alexandra Slagle. Photographs copyright ©2022 by Mark Weinberg. Published by Clarkson Potter, an imprint of Random House.