'The best meat pies in Lebanon are made by the Armenian community,' says Barbara Abdeni Massaad
Reviews and recommendations are unbiased and products are independently selected. Postmedia may earn an affiliate commission from purchases made through links on this page.
Article content
Our cookbook of the week is Forever Beirut by Barbara Abdeni Massaad. Over the next three days, we'll feature more recipes from the book and an interview with the author.
Article content
Lahm bi 'ajeen (Armenian meat flatbread) is a staple of Lebanese street corner bakeries. "It's really, really delicious. And it's part of the selection when you go to the local, small Lebanese bakery," says Beirut-based cookbook author and photographer Barbara Abdeni Massaad.
Article content
"The stars are the man'oushé bi za'atar (wild thyme flatbread) or man'oushé bi jibneh (cheese flatbread), or this lahm bi 'ajeen. And the lahm bi 'ajeen, you can make it a bit spicy, and it's really like comfort food."
Massaad comes from a multinational family. Her maternal grandparents were from Syria and France; her paternal grandmother, who was born in the United States to Armenian parents who had fled Turkey, married her Lebanese grandfather.
Article content
"As a child I had the feeling that there were too many identities to relate to, so I completely ignored my Syrian and Armenian heritage. Today, I feel quite the opposite," Massaad writes.
Fascinated by the food, she has researched Armenian cuisine and visited with people in Lebanon's Armenian community — especially in Bourj Hammoud, northeast of Beirut.
The Armenian community in Lebanon is made up of people who once lived in Turkey, Massaad adds, and this journey has heavily influenced their cuisine.
"It's quite different from the Armenian food that is more Russian-like — it's blander than the one that we have," she says. "Ours screams. It screams of flavours and spices and it's very, very good."
Article content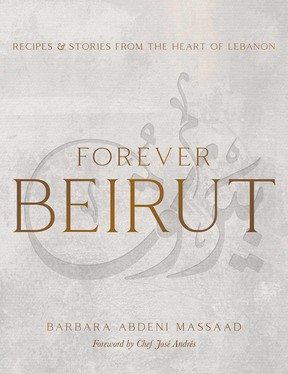 ARMENIAN MEAT FLATBREAD
Lahm bi 'Ajeen Armani
Dough:
1 tsp (3 g) active-dry yeast
1 1/4 cups (300 mL) lukewarm water (body temperature is best)
3 1/2 cups (420 g) all-purpose flour, plus extra for dusting
2 tsp salt
Topping:
2 medium onions
4 large or 6 medium tomatoes
4 to 5 garlic cloves
1/2 green bell pepper
1/2 bunch flat-leaf parsley, finely chopped by hand
8 oz (250 g) finely ground beef or lamb with 25 per cent fat for the best flavour (you can pulse ground meat in a food processor to achieve a find grind)
1 tsp red pepper paste, or to taste
1/2 tsp ground allspice
1 1/2 tsp salt
Pinch freshly ground black pepper
1/2 cup (70 g) pine nuts (optional)
Lemon wedges, to serve
Pinch Aleppo pepper or cayenne, to serve
Step 1
Dissolve the yeast in the water and set aside for a couple of minutes. In a mixing bowl, sift the flour and salt together and stir in the sugar (it is important to mix the dry ingredients first). Stir 1 tablespoon of the olive oil into the yeast mixture and pour it into a large mixing bowl or the bowl of a stand mixer. Gradually beat the flour into the yeast mixture until it starts to come together into a soft dough.
Article content
Step 2
To knead by hand, dip the dough out onto a lightly floured surface and knead the dough for 5 to 10 minutes until smooth and elastic. Alternatively, knead for 3 minutes in a stand mixer, or for 1 minute in a food processor, starting at a low speed, then gradually turning up the speed. Always stay close to your machine while it is running.
Step 3
Transfer the dough to a large bowl dusted with flour or greased with 1 tablespoon of olive oil. Cover the bowl with a damp dish towel and leave to rise in a warm place free of drafts for 1½ to 2 hours, or until doubled in size.
Step 4
Punch down the dough. On a floured surface, form the dough into a log. Divide the dough into 16 equal pieces (for larger pies) or 24 equal pieces (for smaller pies). Roll each piece out to paper-thin rounds; 8 in (20 cm) in diameter for large pies, or 5 in (12 cm) for small ones. Cover again with the dish towel and set aside for 10 minutes.
Article content
Step 5
Make the topping: Quarter the onions and tomatoes and place them in the bowl of a food processor. Add the garlic and bell pepper and pulse until evenly finely chopped. Alternatively, finely chop them by hand.
Step 6
In a mixing bowl, combine the ground meat, red pepper paste, allspice, salt, pepper, and pine nuts, if using. Mix the ground vegetables and parsley into the meat and knead with your hands to create an even, dough-like consistency. Transfer the mixture to a colander to drain excess liquid, and divide the mixture into 16 or 24 pieces (according to how many dough rounds you have).
Step 7
If you are oven-baking: Preheat the oven to 400F (200C). Spread the meat mixture over the whole surface of the prepared dough (the meat will shrink during cooking). Working in batches if necessary, place the dough rounds directly on the upturned baking pan or baking stone and bake for 5 to 7 minutes, until the meat and dough are cooked and the edges are slightly golden, watching carefully so they don't burn.
Article content
Step 8
Alternatively, use a cast-iron crepe pan, griddle, or saj (convex disc pan), preheat over high heat. Place a dough round on the pan and heat until small bubbles form; then spread the meat over the whole surface of the dough. Turn down the heat to low (to ensure the meat cooks evenly), and cook until the bottom is slightly golden, the edges are crisp, and the meat is cooked, about 5 minutes. Lightly spray the cooking surface with water between batches and wipe away any debris.
Step 9
Serve the pies hot with a squeeze of lemon juice or a pinch of red pepper.
Makes: 16 or 24
Recipe and image excerpted from Forever Beirut by Barbara Abdeni Massaad. Text copyright ©2022 Barbara Abdeni Massaad. Photography copyright ©2022 Barbara Abdeni Massaad. Published by Interlink Books, an imprint of Interlink Publishing Group, Inc.