Article content
NASHVILLE — The Calgary Flames are a team that is going to need to win games by playing low-scoring hockey.
Article content
That's been the story all season. The Flames themselves have repeated it in the media.
Article content
Something seems to have changed, though.
Suddenly, the Flames are scoring in bunches. They've scored 20 goals in their last five games, nearly a goal-per-game more than their average for the season as a whole. And, most importantly, they've picked up points in all five of those games.
Article content
The Flames, though, insist they're not doing anything especially different.
"That's a season for you, that's just how a season goes," said Flames centre Mikael Backlund. "There's going to be times when a team has a hard time scoring goals and there are times when everything goes in.
"At the same time, if you do the right things and put pucks on net and create a lot of chances, the pucks will eventually go in. That's what we did."
Article content
For most of the season, the Flames have been a team that gets a lot of shots on net. They're averaging 34.9 shots per game, the third-most in the NHL behind the Carolina Hurricanes and Florida Panthers.
Getting those shots into the back of the net has been a challenge, though, and the Flames' 3.14 goals-per-game is only the 18th-best average in the league.
But that does seem to be changing. The pucks are going in, finally, and the Flames believe it was only a matter of time before that started happening more regularly.
Article content
"I think we're just kind of finishing on our chances," said Flames forward Tyler Toffoli, who is second on the Flames with 15 goals. "I think you look at the majority of games we're getting 30 or 40 shots and eventually those are going to go in. This road trip's been good.
"We've got an older team here, so it's just a matter of sticking with it. We're confident and we know we can score goals and make plays and do the little things to win games and it's been good, so far."
There certainly can't be many complaints about how the Flames' current five-game road trip has gone. It hasn't been perfect, of course. Losing to the Blackhawks in overtime last Sunday wasn't what you want and they've given up multi-goal third-period leads twice, although they still managed to sneak out of Dallas with a 6-5 win on Sunday.
Article content
But from an offensive standpoint, things do seem to be clicking. That's translating to points in the standings, too. The Flames have picked up six of a possible eight points through four games and have a chance for more on Monday night against the Nashville Predators. (6 p.m. MT, Sportsnet One//Sportsnet 960 The Fan).
There are goals coming from everywhere up and down the lineup, too. Against the Stars on Saturday, the Flames got goals from six different players. Each of their four lines contributed with a goal, and defencemen Rasmus Andersson and Chris Tanev chipped in, too. It was the first goal of Tanev's season.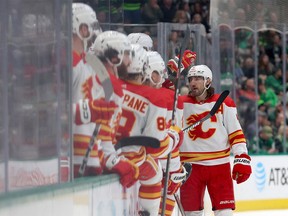 "It's just pucks are going in," said Flames winger Blake Coleman. "Obviously, as a group we've got to mature and find ways to not let teams back into games, but the starts have been good and that's been important."
Article content
There's no guarantee that the Flames will keep up the offensive pace they've set over the last five games. There are going to be plenty of low-scoring games between now and the end of the season. That much is inevitable and is probably how the Flames have to play.
But it certainly hasn't hurt to have a few more pucks find the back of the net recently.
"We weren't a frustrated group," Backlund said. "We knew, a lot of games we played really well and didn't score as much as we wanted but we all know if you play the right way and do the right things, good things will happen."