Article content
EDMONTON — Dan Vladar spent the off-season diving into a things-to-do list given to him by Calgary Flames goaltending coach Jason LaBarbera.
Article content
What that agenda exactly entailed, he wouldn't divulge.
Article content
"Top-secret list," said the Flames' second-string goaltender, with a curious smile. "I was working on that, so that was my focus this summer."
With all the hush-hush, we might not ever know, but perhaps 'the list' has helped to give the lanky goalie early confidence on the year.
Article content
Vladar was certainly solid in Friday night's NHL pre-season contest against the Edmonton Oilers, a game that came down to the wire ending 2-1 in favour of the home squad at Rogers Place.
"Sucks we didn't get the get the 'W'," Vladar said. "Because we played well, you know, against their full lineup. Guys did a really good job in front of me. I didn't have a lot of tipped or screens or stuff like that."
Article content
Not until the third period, at least, when the Oilers' Brett Kulak broke a long-standing deadlock with a puck that somehow found its way past Vladar.
Up until then, with the Oilers icing pretty much what's expected to be their starters for the regular season, the visiting goalie stood tall to anchor a game Flames lineup that had only a handful of veterans.
"Vladdy played great in behind of us all night," said pesky Flames winger Mitch McLain. "We needed it, because they played a big lineup."
The Czech goalie was tested early, making three or four huge saves off Leon Draisaitl — twice — and Zach Hyman — twice — on a dominant Oilers power play, with Juuso Valimaki in the penalty box for holding. But Draisaitl got the better of Vladar on his next opportunity, scoring after the goalie was lazy in playing a puck that dribbled his way. The Oilers sniper took a rebound that never should have happened and easily deposited it behind the Flames netminder for the first goal of the game at 11:22 of the first period. It was a play Vladar would want to have back.
Article content
A lazy play by the Oilers led to the tying goal before the end of the opening frame. But credit Flames tryout-guy Cody Eakin for his quick thinking to knock a puck off the stick of an Oilers defenceman behind the net, sending the puck out front for Dillon Dube, who deposited it swiftly into the net behind Oilers backstop Jack Campbell.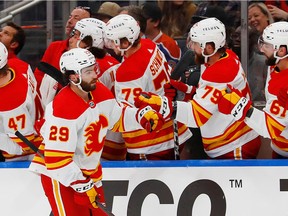 Vladar then came right back with a nice save off Warren Foegele on a 2-on-1 with Ryan McLeod, getting the pad down and out quickly to take away a sneaky rebound attempt.
The Flames goalie looked good to start the second period, as well, stopping Ryan Nugent-Hopkins on a rebound in tight. A few minutes later, he also stopped hot-shots off Evander Kane and Connor McDavid, who was doing his usual buzzing around in the enemy end. More buzzing from the Oilers in front of the Flames goalkeeper during a subsequent power play — with McLain in the box for hooking — further kept Vladar on his toes. And late in the second, he stopped Hyman coming in hot on his own down the slot.
Article content
In fact, the only way the Oilers could beat Vladar was on a point-shot that he couldn't see. Kulak beat him through traffic, with the rubber perhaps redirecting off a body — or two — on the way past the goalie.
"I could have stopped that first one — could have been a different story," Vladar said. "We were close — we had some chances at the end."
Otherwise, it was a statement performance by Vladar — who faced nearly 40 shots — in proving he's the right guy behind starter Jacob Markstrom, even though rookie Dustin Wolf is considered the club's potential goalie of the future.
"Our goaltending is usually pretty good,," said Flames head coach Darryl Sutter. "Goaltending is clearly our strongest position, organization-wise. The three of them have been outstanding right through (training camp)."
Article content
Vladar has dressed in three pre-season games, helping to shut out the Vancouver Canucks with Oscar Dansk and allowing two goals to the Seattle Kraken over 60 minutes before Friday night's effort.
"Obviously I know who I'm in the locker room with, right?" Vladar said. "So for me, it's still learning — just wanting to get better and better and learn from Marky. Every time I'm going to get the call, I'm just doing my best.
"I would want to be a No. 1. But sometimes you've got to look in the mirror. You look at Marky's history, and it wasn't like he jumped into the NHL and he was No. 1 right away. So I think everybody's done some time, obviously, and this is for me. I'm super thankful that I've got Marky in the locker room and I can talk to him. Obviously, he's got way more experience than me."
Article content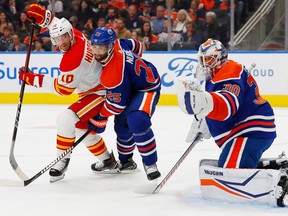 AROUND THE BOARDS
With Elias Lindholm not on the trip to Edmonton, Flames hopeful Adam Ruzicka scored a plum assignment as centre between Jonathan Huberdeau and Tyler Toffoli. Sutter has praised Ruzicka's commitment during off-season. "He put a really good summer in," Sutter said. "He has a man's body now, which wasn't there before. That was lifestyle, diet, training … all that. He's taken a big step in all three areas. Now, it's in performance. So this is when you get that opportunity." … Sutter also praised his group on the night, saying, "I thought we dug in — hung in there. I thought some of our second-year pros (including Connor Zary) had a good game." The Flames' other forward trios against the Oilers were: Kevin Rooney between Dube and Eakin; Cole Schwindt centring Zary and Sonny Milano; and Clark Bishop with wingers McLain and Walker Deuhr … The blueline tandems were: Andersson with Noah Hanifin; Connor Mackey paired with Michael Stone; and Valimaki beside Nicolas Meloche … McLain, a pain in the side of the hosts all night, and Oilers defenceman Darnell Nurse had a tussle that was short-lived midway through the third period after the Flames winger caught Evander Kane and knocked him down hard. "We were on the forecheck all night, our line," McLain said. "We were kind of chipping and chasing like we have been doing. I thought I hit Kane clean, but Nurse came up and tried to hit me in open ice. It was just one of those things — I'm an emotions guy, and I tried to stand up for myself." With 3:32 left, the two combatants squared off again for a more lengthy — and spirited fight — marking the only fireworks of the pre-season Battle of Alberta instalment. "He wanted another run at it, and I'm not going to back down from that. And I respect him standing up for a teammate. I was happy to oblige." 
Article content
OFF THE GLASS
The two teams donned orange jerseys during the pre-game skate to salute the National Day for Truth and Reconciliation … Huberdeau, Toffoli and Andersson wore the Flames' alternate captain's 'A's for the clash … Right-winger Brett Ritchie, who had been listed as day-to-day with a lower-body injury, was a participant in Friday's second-group session … The Flames assigned 11 players to the AHL's Wranglers — goalies Brad Arvanitis and Daniil Chechelev, defencemen Josh Brook and Rhett Rhinehart and forwards Calder Brooks, Lucas Feuk, Alex Gallant, Rory Kerins, Simon Lavigne, Matt Marcinew and Ilya Nikolaev … Exhibition action continues for the Flames on Monday versus the visiting Seattle Kraken at Scotiabank Saddledome (7 p.m.), Wednesday against the host Winnipeg Jets at MTS Centre (6 p.m.) and next Friday in a rematch with the visiting Jets at the Dome (7 p.m.) … The season opener for the Flames goes Thursday, Oct. 13, against the defending Stanley Cup-champion Avalanche at the Dome (7:30 p.m.).