Ivan Roberto Martell is charged with first-degree murder in the death of his on and off girlfriend, who court heard was stabbed and strangled.
Article content
Warning: Story contains graphic trial testimony about cause of death 
Article content
When Ally Moosehunter was found dead in the bathroom of her basement suite in Saskatoon's Hampton Village neighbourhood, she had been stabbed 10 times, beaten and strangled.
Article content
She died from multiple "sharp force injuries" — specifically one stab wound that entered her chest — in combination with manual strangulation, a forensic pathologist concluded.
Dr. Eric Bol testified on Wednesday at the first-degree murder trial of Moosehunter's on and off boyfriend, 32-year-old Ivan "Roberto" Martell. His judge-alone trial is in its second week at Saskatoon Court of King's Bench.
Court has heard Moosehunter and Martell had been dating, on and off, for about three years, including while Martell was incarcerated.
They were broken up, but Moosehunter had texted both her sister and her best friend the night before she died, telling them they were meeting up to "talk."
Article content
Moosehunter, 28, died sometime between the evening of March 3, 2020 and the morning of March 4, when she didn't show up to work at the Fire Creek Gas and Grill.
Her upstairs neighbours testified about hearing "muffled screams" from her suite around 5 a.m.
Moosehunter's Jeep was missing and her brothers found the door locked when they went to her house in the 500 block of Geary Crescent around noon. They said they used a screwdriver to pry open the door and found Moosehunter's body, bruised and covered in blood.
Bol said he could not say what caused the bruising and certain lacerations on Moosehunter's body, but most of her injuries appeared to be recent and sustained while she was alive.
"Death is a process and not an event," he said. In this case, it's hard to speculate on the length of time it would have taken for her to die, Bol replied when asked by Crown prosecutor Linh Lê.
Article content
Stab wounds take time to bleed, but strangulation can be rapid or delayed, he noted.
He told court he did not see any signs of "classic" defensive wounds when examining Moosehunter's body.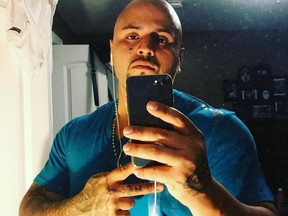 Moosehunter's brothers testified that their sister's pants were pulled down when they found her body.
Bol said a knife handle was inserted into Moosehunter's rectum. Since there were no surrounding injuries, he said he could not tell if it was done before or after she died, or whether she was conscious or unconscious when it happened.
He also noted that while there was no physical evidence of sexual trauma, he could not comment on whether sexual activity had occurred. He told Lê the knife could have been used to stab Moosehunter.
Article content
Bol testified that fentanyl and light amounts of cocaine and methamphetamine were found in Moosehunter's system at the time of her autopsy. He said the drugs did not cause her death.
Lê asked if the amount of detected drugs could impair a person's ability to defend themselves. It's possible, Bol replied.
During cross-examination, defence lawyer Patrick McDougall asked if Bol could determine, based on her injuries, whether Moosehunter was hit with a chair. He said he wouldn't be able to tell.
McDougall also asked if an ice pick could have been used. Bol said it might be consistent with several smaller injuries, but couldn't say for sure.
On re-exam, he said it doesn't appear that either a hammer or screwdriver caused Moosehunter's injuries, but instead a single-edged "sharp force object."
Article content
A DNA expert is expected to testify when the trial continues on Wednesday.
The news seems to be flying at us faster all the time. From COVID-19 updates to politics and crime and everything in between, it can be hard to keep up. With that in mind, the Saskatoon StarPhoenix has created an Afternoon Headlines newsletter that can be delivered daily to your inbox to help make sure you are up to date with the most vital news of the day. Click here to subscribe.