"The numbers, to me, weren't the most important. It's about the team we have and I'm super-excited about that."
Article content
Tim Stutzle scored the biggest contract in franchise history Wednesday afternoon.
Article content
Just as the Ottawa Senators were getting ready to wrap up a season-opening news conference at the Canadian Tire Centre, general manager Pierre Dorion sat down beside the high-scoring centre and asked Stutzle how he felt about staying here for another eight years.
Article content
"I'm in," Stutzle said with a wide smile.
Article content
With a few strokes of the pen, the 20-year-old Stutzle agreed to a whopping eight-year, $66.8 million deal. It's the largest contract in franchise history and will keep the No. 3 overall pick in the 2020 National Hockey League draft in the fold until the end of the 2030-31 campaign.
The contract will have an average annual value of $8.35 million when it kicks in for the 2023-24 campaign. Stutzle, who had 22 goals and 36 assists for 58 points last season, was thrilled to get it done.
Article content
"I was super, super happy to be able to sign it today," he said after inking the deal at the ChekPoint restaurant at the rink. "Like I said, for me it was really important that everybody was buying in.
"The numbers, to me, weren't the most important. It's about the team we have and I'm super-excited about that."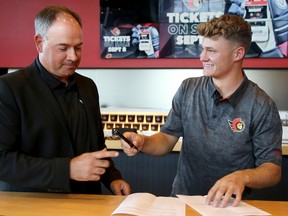 Stutzle had been skating at the nearby Bell Sensplex in Kanata when the deal was finalized. The two sides agreed to the terms late Tuesday night, but Dorion had to get the green light from the Senators' board of directors before finalizing the contract.
Ben Hankinson, Stutzle's Minnesota-based agent with Octagon Hockey, was trying to call Stutzle while he was on the ice Wednesday morning to let him know the deal was in place. He didn't find out until Dorion approached him in the hallway outside the dressing room.
Article content
"He asked me, 'Are you ready to sign?' I checked my phone and I had like 10 missed calls from my agent," Stutzle said. "(Hankinson) sent me a text saying everything was approved."
That led to an impromptu signing just as people were finishing up lunch.
Dorion and Hankinson started holding talks in August. It didn't take long to find common ground because both sides wanted to get a deal done. The Senators want to have Stutzle, and he wants to be here, so the rest was just details.
"This is a great day for our franchise," Dorion said. "He's probably our most skilled forward and he's a really key component in our future success for the next eight years. A lot of credit goes to him. He wanted to get this done.
Article content
"When we started talking in early August, Ben Hankinson told me (Stutzle) wanted to get this done because he really wanted to focus on playing hockey and on winning. He's seen everything we've done over the last little while, and he's really invested in being an Ottawa Senator for the next eight years."
Getting Stutzle signed is another key piece for the organization.
The Senators have centre Josh Norris (eight years), Brady Tkachuk (seven), Drake Batherson (five) and defenceman Thomas Chabot (six) under long-term contracts. This team is now set up to have success with its core in place.
Norris signed a deal with an average value of $7.95 million per season earlier this summer.
"That's five pretty significant pieces and they're our younger players," Dorion said. "They're signed for the long-term and they wanted to do it here. They want to be here, they want to win, and I think that says a lot about the organization and where we're moving."
Article content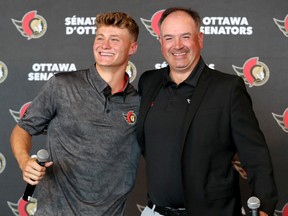 Stutzle should be even better this season and Dorion knows he has a high ceiling.
"Tim can be a superstar," Dorion said. "You look at every part of his game; He's competitive, he's dynamic, he's got speed, he's got skill, great hockey instincts … he's learned how to check and he's learned how to play centre. This league can eat you up at times.
"Now, when he's out there, he's so dynamic I think he can be a future superstar in this league. He can be someone that you can count upon to push the play and generating offence."
This has been a huge summer for the Senators.
Free-agent forward Claude Giroux signed a three-year deal when the market opened on July 13, and he's a significant piece. The Senators also acquired high-scoring winger Alex DeBrincat from the Chicago Blackhawks and veteran goaltender Cam Talbot from the Minnesota Wild.
Article content
Stutzle said he had no issues committing to the organization long-term.
"It couldn't be easier to sign that contract," Stutzle said. "Since I got here on Day 1, I've felt like everyone has supported us as a team and everyone took care of us. I'm really thankful for everything. It's a really big day for a whole organization."
Stutzle said he really didn't think it would get done until next week.
"I was super surprised. I'm a little nervous now just to get going," Stutzle said.
HERE'S HOW THE DEAL BREAKS DOWN
2023-24: $5M
2024-25: $6.5M
2025-26: $9M
2026-27: $9M
2027-28: $10M
2028-29: $10M
2029-30: $9.9M
20 30-31: $7.4M
Stutzle has a 10-team no trade clause kicking in at the start of the 2027-28 campaign.
Twitter.com/sungarrioch