Article content
Tyler Toffoli was apparently paying attention to his status as a pre-season question mark.
Article content
The Calgary Flames forward waited six months and 60 points, a new career-high, to even mention it.
Article content
By then, the answer was clear. Yeah, Toffoli is a top-line talent.
"I know I am, but other people thought differently," Toffoli told reporters after racking up four points — two tallies, plus a pair of helpers — in Thursday's victory in Vegas. (That's not a typo. The Flames, thanks to a seven-goal onslaught, finally ended a five-year, eight-game losing skid at T-Mobile Arena.)
Article content
"You know what? I've kind of done that throughout my whole career. People have doubted me at times, and I've rose to the occasion. I just want to keep going and get in the playoffs and make some noise."
Folks, of course, have been questioning that too. Maybe the Flames can't be counted out just yet.
Article content
As they prepare for Saturday's showdown with the Dallas Stars at the Saddledome (8 pm., CBC/Sportsnet 960 The Fan), the locals are now just three points out of the final wildcard slot in the Western Conference. The Winnipeg Jets currently occupy that perch, while the Nashville Predators — with three games in hand and apparently undeterred by their seller status on trade-deadline day — are trying to spoil spring for two prairie fan-bases. (The Jets and Predators go toe-to-toe Saturday in Tennessee, and the Flames will simply be hoping that matinee matchup doesn't turn out to be a three-pointer.)
"It shows we can play with anybody," Toffoli told Sportsnet after the 7-2 thumping of the Golden Knights, the top troupe in the Pacific Division standings. "Obviously, we are fighting for our lives here and we need to win every single game.
Article content
"I think we should be proud of this one."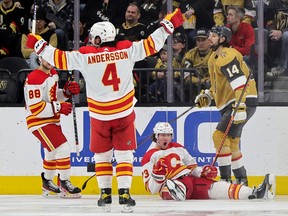 Although he won't be bragging about personal accomplishments with his squad scrambling to avoid an early exit, Toffoli already has plenty to be proud of.
If you rewind to September, back when the Flames were being billed as a should-be Stanley Cup fave, one of the burning questions was whether No. 73 would be up-to-snuff in a first-line role. Many wondered if the 30-year-old right-winger was better suited to skate in the middle six.
He's so far responded with 28 goals and 60 points, tops on the team in both categories. (His centre, Elias Lindholm, is next best with 57 points.)
Teapot, a nickname that stems from his habit of standing with one arm on his hip, has been a season-long bright spot, a predictable presence for a crew that has often been anything but.
Article content
"Obviously, things have been pretty good and I've been pretty consistent," said Toffoli, whose previous offensive benchmark was a 58-point campaign with the Los Angeles Kings in 2015-16. "I came into the season wanting to prove something, and I'm trying everything I can to help the team win games."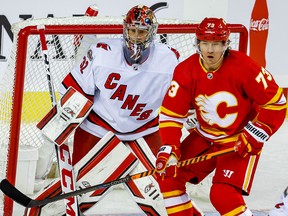 When the Flames do pick up the 'W,' Toffoli is typically a big part of it.
A reminder of his contributions in Calgary's four victories so far in the month of March …
He authored a dramatic ending in Dallas, going top-cheese on a breakaway with only 6.2 seconds remaining in regulation and overtime looming.
The next night in Minnesota, after a stingy performance by his puck-stopping pal Jacob Markstrom, he found the five-hole for the deciding goal in the fourth round of the shootout.
Although he wasn't among the lamp-lighters in a home-ice shellacking of the Ottawa Senators, he did earn an assist on a timely tally by Jonathan Huberdeau.
He tucked two Thursday in Vegas, scoring on a highlight-reel power move and later cashing a rebound after his new linemate, Andrew Mangiapane, was denied on a rush. Toffoli added a couple of helpers in a four-point, first-star show-off.
Article content
"He's a goal-scorer," praised Markstrom in a post-game interview on Sportsnet 960 The Fan. "He gets big goals, and he's done it his whole career. Especially now, coming down to the stretch, we're really going to need a player like that to step up. He has answered the bell every game and he's producing. We are going to need him and everyone else to keep going to make a serious push here."
"He's the best finisher on our team," echoed Flames forward Blake Coleman when asked about Toffoli, now with 221 career notches at the NHL level. "He has been consistent all year, and that's what you need. To get in, we're going to need him to continue and other guys to pull some weight."
Twitter.com/WesGilbertson