Toronto clinched a playoff berth. Ottawa moved closer to clinching top pick in next year's CFL draft.
Article content
Argonauts 45, Redblacks 15
Article content
Let's call it like it is: Embarrassing.
Article content
The Ottawa Redblacks, who keep sinking further and further into the Canadian Football League quicksand, delivered what may have been the worst of a bad bunch of defeats Saturday night at TD Place. Now 3-10, the Redblacks fell 45-15 to the Toronto Argos. With the win, the Argos clinched a playoff berth. The Redblacks? They're a step closer to clinching the first-overall pick in the 2023 draft.
Article content
How bad was it? The Argos nearly hung a 50-spot on the Redblacks, but a late-game fumble prevented it. Why are the Redblacks so bad at home, where they've lost a staggering 21 of their past 22 games? Really, why? You could shrug it off and say it was "just one of those games." Except for the 2022 Redblacks, "one of those games" happens way too often.
Article content
"We had seven turnovers, with (two) pick sixes," said Redblacks coach Paul LaPolice. "Nobody wins with a minus-five turnover margin, nobody overcomes that. As I told the players – we were coming off a bye week, it's my fault. I have to make sure we're ready to play. Every time we started to do something, there would be a critical error. We didn't perform close to our standards, I'm disappointed. We're a frustrated bunch."
There's this: On the final play of the first half — on their 49-yard line — Redblacks starting quarterback Nick Arbuckle kneeled down. They were down by 12 points. They had no momentum. Try something. Throw the ball deep, hope for a pass-interference call. Look for something, anything. Oh, and there's this. Before kneeling, the Redblacks called a timeout. Huh? So much has to be under the microscope as their slim playoff hopes took another another punch to the gut.
Article content
Another big mistake: The Redblacks used up their second timeout on an unsuccessful coach's challenge (pass interference) late in the third quarter.
Explained LaPolice: "The challenge, we felt it was (not pass interference) with the information we had. Before the half, there was a miscommunication on what we were going to do with that last play. I'll take (the blame)."
Once again, the offence wasn't sharp. There were some big mistakes (five interceptions), and, when things don't work, the play calling is fair game for criticism.
"I was struggling at the beginning, there was some miscommunication with me and some receivers – we just weren't on the same page," said Arbuckle, who completed 23 of 37 passes for 231 yards, but was pulled at halftime after throwing two interceptions. He later returned after his replacement Caleb Evans threw his third interception. "I'm not saying (the receivers) were wrong or anything like that. It doesn't matter who was right; if we're not both on the same page, we'd be better to both be wrong. The second interception kind of broke our back at the end of the first half."
Article content
The Redblacks got a 31-yard field goal from Lewis Ward on the first play of the second quarter to take a 3-0 lead.
The Argos marched to the Redblacks' 20-yard line, but a McLeod Bethel-Thompson pass intended for Damonte Coxie was intercepted by Abdul Kanneh in the end-zone. The Redblacks gave the ball back on the next play, though, when Maurice Carnell IV stepped in front of Darvin Adams for a Toronto interception. A facemask penalty to Frankie Griffin extended the drive to Ottawa's four-yard line. On the next play, A.J. Ouellette caught a touchdown pass, and Toronto took an 8-3 lead with a successful two-point convert pass to DaVaris Daniels.
A 36-yard field goal by Ward, with 3:20 left in the first half, made it 8-6, bit Toronto's Boris Bede booted a 42-yard field goal.
Article content
Arbuckle was sacked by a pack of Argos for an 11-yard loss, but the Redblacks won a coach's challenge and Toronto was given a roughing-the-passer penalty; a 26-yard difference in field position. The Redblacks again made a huge mistake, though, when Arbuckle threw into tight coverage and it was intercepted by DeShaun Amos at Toronto's 35. The Argos capitalized; after some sloppy tackling and a 56-yard gain by Daniels, Bethel-Thompson found Kurleigh Gittens Jr. (who's from Ottawa) in the end-zone for a 21-yard touchdown pass. The convert made it 18-6 with 46 seconds left in the half.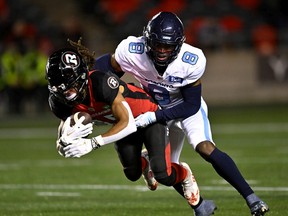 Evans rolled left and found Nate Behar open for a 36-yard gain. Ottawa was again unable to score a touchdown, getting only a 35-yard Ward field goal.
Article content
After a missed Toronto field goal, DeVonte Dedmon was stripped of the ball by former Carleton Ravens linebacker Jack Cassar, who recovered the ball at Ottawa's eight. Two plays later, backup quarterback Chad Kelly pushed in for the touchdown. The convert made it 25-9.
Another Toronto interception, this one by Wynton McManis on the first play of the fourth quarter, gave the Argos the ball in Ottawa's end. A 25-yard touchdown pass to Markeith Ambles made it 31-9. The convert missed.
Oh, another Toronto interception by Carnell, who ran 35 yards for a touchdown. It was 38-9.
An Evans pass ricocheted off the hands of a few Argos, with Chris Edwards bringing it down and running 89 yards for another Toronto touchdown.
Arbuckle returned with eight minutes left, scoring on a quarterback sneak with 3:17 left.
Article content
The Argos looked they were scoring another touchdown, but, after a 42-yard run, Kelly fumbled into the Ottawa end-zone. The ball was recovered by the Redblacks.
"We have to be pros and flush it. Whether you lose by one point or lose like we did out here, a loss is a loss; you have to be able to come back. We have five more games left and we're still not out of it."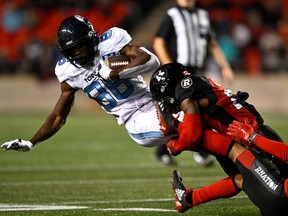 THE END AROUND: With six minutes left, the officials missed an obvious offside on Toronto's defence. It may not seem like much, but, instead of an incomplete pass and second-and-10, it would have been first-and-five … It was the 50th career CFL game for Redblacks running back Jackson Bennett … It was a big loss when Argos running back Andrew Harris went down with an injury (torn pectoral muscle), but his replacement, A.J. Ouellette, is sneaky good … Not exactly sure what Redblacks receiver Nate Behar did, but he was flagged for unnecessary roughness (15 yards) following an incomplete pass to the other side with his team on the Toronto 19-yard line. Ouch. Behar was angry; he was still jawing at the Argos bench as he ran off the field … Attendance was 18,355, a number that has to be concerning … The Redblacks are on the road the next two weeks: next Friday in Vancouver, then Thanksgiving Monday in Montreal.