Article content
With the price of riding buses and trains up by 11% over the next four years, you can hear the collective teeth-gritting of transit riders, already saddled with almost 11% in increases since 2017.
Article content
Monthly pass holders currently spend $1,344/year for service that is less frequent, less reliable and, in some cases, less safe than five years ago, when transit cost $1,212/year. And the city wants clients to pay even more?
For 2023, officials magically found surplus cash to freeze transit rates at 2022 prices.
But by 2024, fares will have two years of catching up to do. And when riders finally do end up turning over more money for the transportation they need and rely on to get to work, school and leisure, it better be worth it.
Article content
Just as buses and trains are filling up again, sometimes to capacity, transit officials have promised to hire and train more drivers to bring service decimated by pandemic and earlier budget cuts back up to snuff.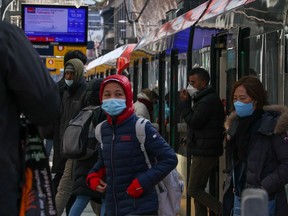 For all practical purposes, Calgary has no primary transit network anymore.
Nowhere can transit customers wait just 10 minutes or less for their next ride, 15 hours a day, seven days a week.
Severe service reductions due to COVID-19, preceded by budget cuts in 2019, undermined a system redesign starting in 2018 meant to give Calgarians the flexibility — and frankly, freedom — of using major bus routes and CTrains without having to worry excessively about a schedule.
Don't try that now.
Twice this past weekend, I observed customers attempting to transfer from one bus to another, only to have the second ride pull away from the stop just as the first bus arrived, forcing those riders to wait 30 to 40 minutes for the next departure. It's not always like this but when it happens, it sucks.
Article content
Even if you've meticulously planned your travel, it might still take a long time to get to your destination.
A few days after the last big snowfall, I had some business to attend to in an industrial area and didn't feel like driving, so I took transit. I figured I could use the workout, which I certainly got.
The round trip took about three hours. The journey would have taken even longer had I not decided to run on unplowed streets and sidewalks — where there were sidewalks — to reach a different connection when it became clear the industrial park's local bus was well behind schedule.