The paper outlines four possible ways to, as it says, "defend and act to assert greater autonomy in Confederation."
Article content
NORTH BATTLEFORD — Premier Scott Moe says his government is "drawing the line" with Ottawa after outlining on Tuesday a new paper that states federal policies could cost Saskatchewan's economy $111 billion by 2035.
Article content
At a chamber of commerce event in North Battleford, Moe unveiled a number of options the province is considering in its fight against federal "intrusion," including the introduction of legislation this fall that he says clarifies and protects the province's constitutional rights.
Article content
Speaking with reporters after the announcement, Moe did not provide details on the legislation because it hasn't yet been introduced, but he said it would comply with the constitution.
He said Saskatchewan is also prepared to take legal action to maintain control of electricity, fertilizer emissions and usage targets, as well as oil and gas emissions and production.
Additionally, the province is considering developing its own carbon credit market and pursuing greater control of immigration.
Article content
"We won't preclude taking additional steps, even beyond what you're going to see us take this fall," Moe told the audience, which featured an array of Saskatchewan Party MLAs, a Conservative MP and municipal officials.
Moe's announcement comes after Lumsden Morse MLA Lyle Stewart, who is responsible for provincial economic autonomy, and Allan Kerpan, who was formerly with the Wexit movement and Maverick Party, toured the province this summer to gauge interest. Many of the meetings were fairly insular and closed to the broader public.
As part of these policy proposals, Moe worked with Ministry of Finance officials to outline that federal climate policies will cost Saskatchewan's economy $111.3 billion between 2023 and 2035 — $8.8 billion annually.
Article content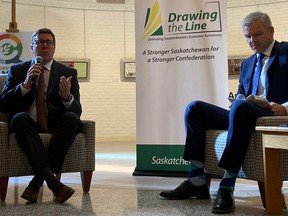 Costs were associated with the federal carbon tax, oil and gas methane mandate, oil and gas emissions caps, fertilizer regulations, clean fuel regulations, the zero emission vehicle mandate, the federal output-based pricing system, agriculture methane initiatives and the landfill methane mandate.
The cost analysis does not include carbon tax rebates or revenues that could be generated through alternative energy.
He ruled out including costs associated with Bill C-69 because it's still before the courts. Costs associated with the clean electricity standard were also not included because that policy is still under discussion.
Moe told audience members Canada is essentially allowing other countries to emit more pollution when it imposes emissions caps in the country. Instead, he said, Canada should increase production to not only ensure energy security, but to supply other countries with products that he says are more sustainably sourced.
Article content
He referenced challenges in Germany, where that country has seen its energy security threatened because it relies heavily on Russian gas.
"We should not in any way be backing away from what we are producing here (or) how we are producing it," he told attendees. "We should be yelling from the rooftops that (we have) some of the most sustainable product in the world."
He said global emissions "would ultimately go down" should Saskatchewan produce more, even if that means higher emissions here.
When told the federal government has said it's not going to mandate fertilizer usage, Moe said that could change in the future.
"The goalposts continue to move, and that's a problem for certainty and for industries," he said.
Article content
He said his proposals are not meant to be a fight with Ottawa because "we didn't introduce any of these policies." But when asked if he was escalating the fight, he said the government "is going to protect the opportunity that we have."
In regards to legislation this fall, Moe said he will work with new Alberta Premier Danielle Smith, who is prepared to introduce her own sovereignty act.
While Smith's office has said the act would respect Supreme Court rulings and constitutional principles, she has previously proposed it refuse some federal laws that aren't in the best interests of Alberta.
"I don't know what hers is going to look like," Moe said, noting Saskatchewan will likely collaborate with other provinces. "All of the moves that we are taking from here, up to and including reaffirming our constitutional rights as a province, are about Saskatchewan and about the opportunity that we have in this province to grow and prosper."
Article content
Critics of Smith's legislation, including former Alberta premier Jason Kenney, have said it could hurt investment in that province because it would create an aura of uncertainty.
Moe, however, said he believes his legislation will provide "certainty," arguing it will draw a line as to what's under federal or provincial jurisdiction. It will spell out "what occurs when that line is blurred," he said.
He said Saskatchewan did not consider the notwithstanding clause because it doesn't apply legally to these proposals.
Saskatchewan New Democratic Leader Carla Beck said in a video statement Tuesday morning that while Ottawa needs to provide more health-care funding and "support industry and job creation," she charged Moe is "sowing division and pointing fingers than actually delivering results."
Article content
"Scott Moe is not fighting to protect the jobs of Saskatchewan people, he's presenting this white paper to protect his own," Beck said.
Moe said his proposal is "only about the people and the opportunity the Saskatchewan people have and can have over the course of today and into the future," adding that Beck should support it.
Ottawa supplied Saskatchewan with $3.2 billion in federal transfers for the 2022-23 budget.
More details on the legislation are expected in the Speech from the Throne later this month.