Article content
Classic?
It took a little while for Monday's big Labour Day tilt between the Calgary Stampeders and Edmonton Elks to earn that moniker. 
Article content
For the first 30 minutes, it fell well short. For the host Stamps, a sputtering first-half offensive performance at McMahon Stadium left more questions than answers.  
If there was little to get excited about in the first half, though, that changed quickly after halftime. Fifteen unanswered points will do that, and the woeful opening two quarters felt almost irrelevant by the time the final whistle blew and the Stampeders (7-4) had secured a badly needed 26-18 win over the hated Elks (3-9).
Article content
"Nothing was easy, nothing," said Stamps head coach Dave Dickenson. "Happy with the win. I'm a bit perplexed at some of the decisions and some of the execution that we had, but I also understand it's hard to put in perfect performances and go out there and just do your job each and every play. That's what championship teams do though, so I'm happy to get Win 7." 
Article content
It was not the straightforward beatdown many were expecting from the Stamps. 
They struggled to move the ball in any real way in the first half. Running back Ka'Deem Carey was his usual, dominant self and did most of the work himself to open the scoring with a first-quarter touchdown. 
But offensively, there wasn't much else to like in the early going. 
Quarterback Jake Maier struggled in the first half, completing only 5-of-11 passes for 80 yards.
Fortunately, the defence and the defensive line, in particular, were absolutely on their game. The only points the Elks put up early were off a spectacular pass from Elks quarterback Taylor Cornelius — who completed 22-of-33 passes for 257 yards and two touchdowns on the day — to receiver Dillon Mitchell and a rouge. 
Article content
As we were saying, the first half was not exactly a parade of spectacular offensive plays. An 8-7 halftime scoreline really does tell the whole story, in this case. 
Fortunately, the action picked up in the second half.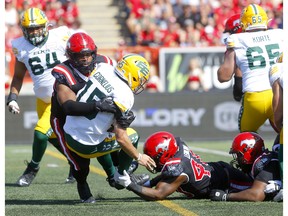 "We went back to focusing on fundamentals, getting my eyes in the right spot, getting the ball out on time, finding completions," Maier said. "I felt like in the first half I didn't do a very good job of that and all of our inefficiencies stemmed from quarterback play. I take a lot of pride in that, but luckily football is a game of two halves and you make yourself right." 
After a tough opening drive of the third quarter, Maier picked up his game — he finished the game having completed 18-of-26 passes for 268 yards and two touchdowns and one interception. 
Article content
Maier marched the Stamps down field and then connected with receiver Reggie Begelton for an eight-yard touchdown. He'd find Malik Henry to secure the two-point convert, too. 
When the Elks went to punt on their next drive, the Stamps' Romeo McKnight got his hands on the ball and fellow defensive lineman Isaac Adeyemi-Berglund recovered. That set up another connection between Maier and Begelton in the end zone, this one for 12 yards. 
In a little over three minutes, the Stamps went from being down by a point to being up by 14. There was still lots of football to play, but the negative vibes that were floating around McMahon Stadium at halftime were long gone.  
"You get punched in the face, you've gotta stand back up and punch back," Begelton said. "They're professionals, too, they game plan. You just make those adjustments and you've got to push through." 
Article content
The Elks and Stamps would exchange field goals before the Elks made things interesting when Cornelius made a highlight-reel play on third down to find receiver Jalin Marshall in the end zone. 
It was as close as the Elks would get, though. A Rene Paredes field goal made it 26-18, and that was all she wrote. 
Nothing that happened on Monday will make anyone confident that the Stamps are going to roll right through the Elks in Saturday's rematch in Edmonton. 
But if you're the Stampeders, you know you need to win the Labour Day Classic. It's the biggest game of the year in front of the biggest crowd of the season. Losing is not supposed to be an option, and the Stamps got the job done. 
"Everyone was working hard, but the execution is not where it needs to be," Dickenson said. "We'll have another opportunity in five days to be better and we'll have to be."