Article content
November was going out pretty much the same way as it had come in.
Article content
The temperature here on the ridge between the Kneehill Creek and Rosebud River valleys was bouncing around between -14 C and -18 C — actually a touch warmer than the first week of the month — but at least it was sunny. And so far, the fields were mostly bare.
Article content
Sure, there were drifts in the ditches and around windbreaks but the stubble in the fields was all bright and golden and the one alfalfa field I passed even had a bit of leftover green. Cattle grazed on the crunchy grass in the pastures with little puffs of condensed breath being swept away by the northwest breeze.
But it was cold. A year ago, just one day later than this, I'd been photographing gophers running around in 15 C warmth. Today, any gopher with any sense would be deep below the frost line, curled up and snoring and waiting for spring.
Article content
Which, needless to say, is a long ways off.
Still, though, it was an undeniably fine day. It was cold, true, but the sun was nice and the lack of recent snow meant the roads were good. And there were birds and animals out in the fields.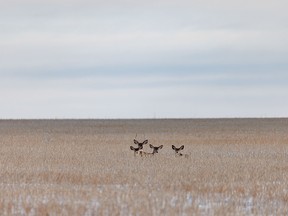 I had been watching for snowy owls as I drove along, looking for their white bodies on the fence lines and power poles. Unlike most owls, these guys are daytime hunters and with their white feathers, if they're around, they are pretty easy to spot.
But they aren't exactly common. Like all predators, they are vastly outnumbered by their prey, so though you might find flocks of snow buntings and horned larks flitting around the fields, you could go days without seeing a snowy.
And even if you do see one, you might not see it very well. Like the one I found just east of Beiseker.
Article content
In fact, if it hadn't been on a high point out in a field, I likely would have missed it. But there it was, a big, bright, white bird sitting on the blue snow and golden stubble. It would have been nice if it had been closer but hey, it was my first snowy of the year.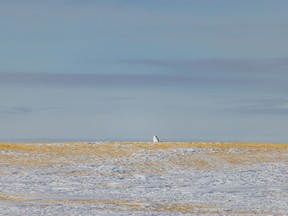 The mule deer nearby definitely were not my first of the year but they were the first of my day. They were relaxing in a field of canola stubble, a young buck and three does, and they just stared at me as mulies often do. And they kept staring until I pulled away and spooked a flock of partridge that were foraging nearly. The mulies turned their heads in unison to watch them fly away.
I had given some thought to going north and east to the Red Deer River valley over by Drumheller but when I checked the weather app on my phone it told me that it was another 10 degrees colder over there. So instead, I headed up to Carbon to follow Kneehill Creek.
Article content
Not that it was a lot warmer there but I knew there would be haze in the deeper valley to the east and here at Carbon, it was clear. That's how I was able to spot a mulie buck on the prowl.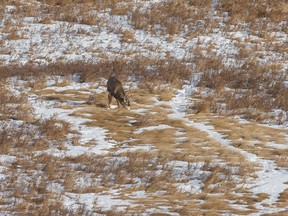 I'd been seeing deer everywhere out this way, almost entirely mule deer. Most of them posed for me, a few bounced away.
But I didn't spot the biggest buck until I parked to take a picture of the Kneehill valley by Sharples.
I was on a bend in the road above the valley so I pulled over to look down toward the creek and across the way to the old Parrish and Heimbecker grain elevator that's eroding away at Sharples, a little further downstream. From up where I was I had a nice view of the bends in the creek and the old railway bed twisting along toward the elevator so I aimed my camera downward.
Article content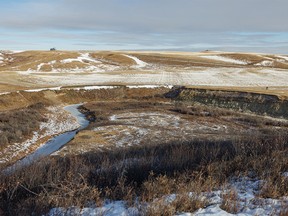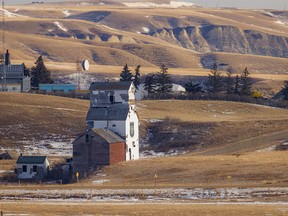 Had the buck been standing still I'd have missed him but he was circling an open patch of grass, stopping here and there to nibble at the snow. It wasn't hard to figure out what he was doing. A doe had likely stopped here not long before to answer nature's call so the buck, still in baby-making mode, was tasting the tainted snow for signs of female hormones.
Apparently, he liked what he licked so he put his nose down and sniffed his way along the scent trail over to the creek and beyond. I scanned the hills on the far side of the valley for his potential love but I saw nothing. I hope his hunt went well.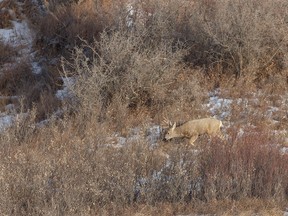 I cut back south again and then angled east where I caught the road back down into the Kneehill Creek valley at Hesketh. The coulees start to get pretty steep and deep over here with badlands outcrops on the exposed hillsides. Tall sagebrush grows on the sunny slopes while down in the valley it's all willows, saskatoon, chokecherry and buffaloberry shrubs. Most of them were skeletal now, the leaves gone, but the buffaloberry branches were heavy with bright, red berries. A nice splash of colour again the brown grass and blue shadows. I found another mulie down there, too — they were everywhere today — this one just a youngster who lay in the grass and low shrubs.
Article content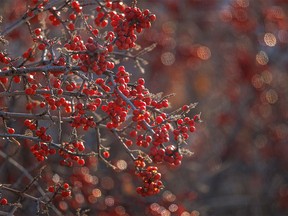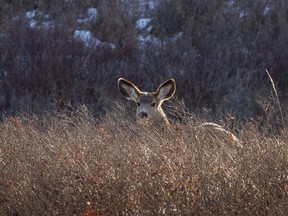 That was about as far as I could go along the creek unless I went all the way downstream to where it meets the Red Deer River, so I cut south again over to the Rosebud River valley by Beynon and one of my favourite coulees.
I'll bet it has a name, being as spectacular as it is, but I don't know it. But once you see it you won't forget it. A little creek runs through the bottom and though it is fairly wide near the road leading down into Beynon, it narrows off both upstream and down. And it pops up so dramatically, too.
Driving along, looking at the flat grain fields and pastures, you'd never think that there was a slash in the land so sudden and so deep. And you'd never think you would see so many spruce trees, either.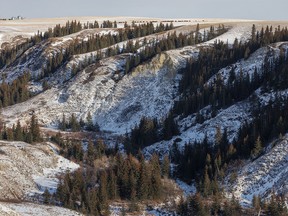 To me, that's as much of a surprise as the coulee itself. Most of the other coulees in the area are dominated by cottonwoods and aspens but this one is nearly all spruce trees. But looking through my long lens, I wondered if they might be a bit sick.
Article content
The tops of most of them were a rusty brown that I at first took to be dead and dying branches. But, no, it turned out to be just a huge crop of cones. On some of the trees they were thick enough to bend the branches. I don't know if there are any squirrels living here but I know there are chipmunks and cone-eating birds. Their winter larders are full.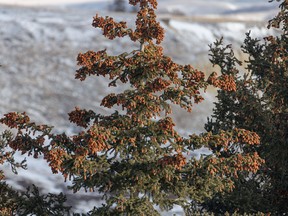 I headed down into Beynon, now, stopping to shoot pictures of a female pheasant that posed and then took off running and had to ride the brakes to avoid a very large mulie buck who came sprinting down the hillside and crossed the road right in front of me. Hot on the trail of a doe? I don't know but he was in a hurry to get somewhere.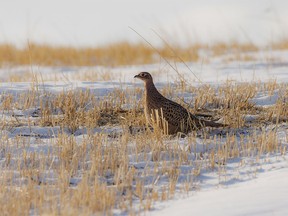 There was quite a bit more snow here than further west and up on the flats it was starting to blow around a bit. I began hitting little finger drifts along the road and when I rolled down the truck windows to get a picture of frozen coyote tracks on the ice of a slough, the wind bit me like it had teeth.
Article content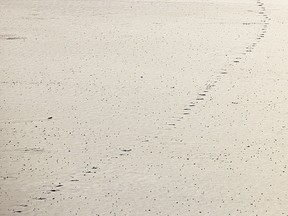 But the sun was still bright and the sky overhead mostly clear so there were hard-edged blue shadows from the stalks and clumps of grass and the tiny trails left by little rodents stood out crisply. Stepping out of the truck to walk over closer to one little trail, I stepped on what looked like a sold drift and sunk immediately to my knee in loose snow.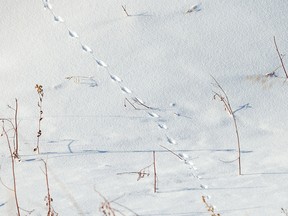 Interestingly, the exact same thing had happened to me near the beginning of the month, too. The intervening three weeks had not left me any more inclined to wallow around in snow than it had the first time it happened. I got back into the truck and rolled on.
By now it was heading for three in the afternoon, the days leading up to the solstice getting shorter and shorter, so I headed across the Wintering Hills and angled back toward town with the sun approaching the western horizon. It lit up the stubble in the fields even more nicely than it had in the morning and highlighted the curves and convolutions of the snow drifts.
Article content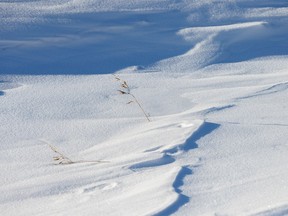 I came across one drift that had been burrowed into by something — a coyote, judging by the tracks — and next to a slough, a stand of brown cattails added a warm touch to the blue tones of the snowy curves behind them. On another field, the drifts were lower and barchan-shaped, bright chevrons against the exposed ground. Golden blades of grass sticking up through the white created little drifts of their own that angled away from the wind that had formed them.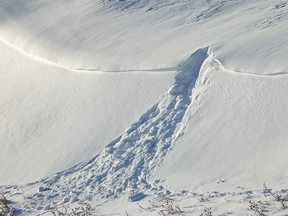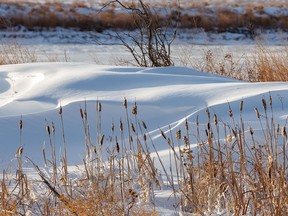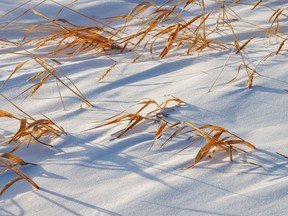 There were more barchan drifts on the dry slough beds to the south with the clouds overhead sweeping along at the same angle while over at another slough not much further along, the sun dipped behind a bank of clouds hung there three-fingers above the western horizon. Its light was yellow, now, and the shadows it cast turned grey.
Article content
Pausing to watch a coyote on the hunt far off in a field, I looked up and saw the half-moon hanging behind a layer of thin cloud. It looked bright up there and with the blue sky around it, almost summery. But it clearly wasn't summer.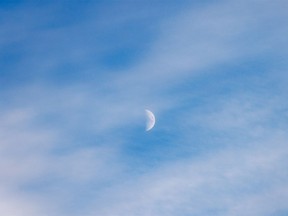 The dash thermometer read -16 C, virtually the same temperature as it had read back three weeks ago when the month had just begun. And though there was the hint of a chinook in the coming week's forecast, for now, it was cold and getting colder.
Yes, November was going out pretty much as it came in and December was about to begin. March, the official start of spring, was still three months away. Winter, counting November, was going to be a full four months long.
Despite how much I'd enjoyed the day, not the most pleasant thought. But, as I drove into the 4:30 p.m. sunset still scanning the fencelines and power poles for snowy owls, something occurred to me.
With November gone, winter is now a quarter done.
And with that realization, smiling, I headed on back to town.