Article content
When Henrik von Eckermann's partner, Swiss Olympian Janika Sprunger, became pregnant with their son Noah, her horse King Edward needed a rider and von Eckermann stepped in.
Article content
With the success he and King Edward have enjoyed since then, chances are good Janika isn't getting her horse back.
Article content
The 41-year-old Swede has enjoyed great prosperity these past couple of years, winning the gold medal at the 2022 world championships in Denmark this past August. At the 2020 Olympics in Tokyo, the two teamed to finish just off the podium in fourth.
Article content
Von Eckermann comes into the Spruce Meadows Masters, his third appearance at the venue, as the No. 1 rider in the world.
"All good things that happen give you confidence," noted von Eckermann. "In this sport, I believe confidence is a big thing. It was a goal that I had always been dreaming about and always worked for. You always say when you're young, I want to be the best in the world, and now you have it on paper, it's nice."
Article content
It wasn't a given that he and King Edward, a 12-year-old gelding, would even appear here but as circumstances presented themselves, this was an opportunity they couldn't really pass up.
"We only made the plan to the world championship and after we made a new plan, depending on the horses, and especially King Edward," he explained. "With the consideration that I'm pre-qualified for the grand prix here, and it fit the program because he had a good rest after the world games and he will have a good rest afterward."
"He has everything," von Eckermann said of his mount. "He's careful, he has an unbelievable mind. He grows when he comes into the ring in the way that he wants to get on the other side. He has the whole package. He has a lot of blood so he has a lot of power. He never gets tired."
Article content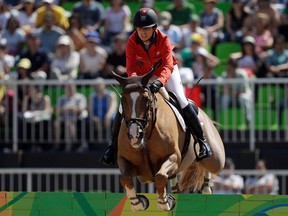 The pair will be key in Sweden's bid for the BMO Nations' Cup on Saturday, an event the country has never won. But as they're the reigning team world and Olympic champs, the odds are hugely in their favour.
"We have a strong team and we definitely have hopes and want to win tomorrow, there's no question," von Eckermann said. "You need that little thing on your side tomorrow but we feel very good."
"We've had a great couple of years," agreed Peder Fredricson, third-ranked in the world. "The whole Swedish team has a golden age right now, we have a lot of good riders, a lot of good horses at the right age at the same time. These things only happen now and then. We're really happy to experience that and hopefully we get a few more years."
Article content
As for Sprunger, she'll be cheering her partner and her horse from afar.
"It worked out for us all very good," von Eckermann smiled. "We are very proud. We are in this together. I have the success in the ring but we all feel together as a part of it all."
There was a lot of action in the International Ring on Friday, the first of which was the $75,000 Enbridge 1.50m grand prix, won by American Natalie Dean with Cocolina.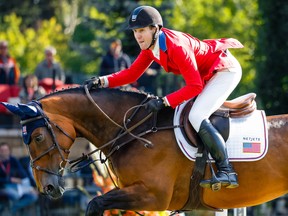 Another American rider, McLain Ward, was victorious aboard his longtime partner HH Azur in the 1.60m Tourmaline Oil Cup, their second straight victory in this event. The 16-year-old mare has had her share of triumphs at this facility.
"She is a remarkable warrior," Ward said of his horse. "It's a funny week to say this, but she is also a queen this horse. She won the Queen's Cup eight years ago, it was her first major victory. She's battled some injuries over the last couple of years which she came back from. She has the same enthusiasm and joy for doing the sport that she always did.
Article content
"I think in these intimidating venues, that experience and knowledge is huge. It allows you to know how the horse is going to react to the different tests. I think Azur in this ring rises to the moment."
Ward, the 16th-ranked rider in the world, will use Kasper Van Het Hellehof in Saturday's Nations' Cup, while Azur takes on the huge CP International grand prix test on Sunday.
"It's a different challenge than today," said Ward. "It'll be the very pinnacle of jumping on Sunday. She's been second and third; we've knocked on the door."
The late-evening ATCO Electric Six Bar was a three-way tie between Calgary's Brian Morton and Crusador Z, Sweden's Jens Fredrickson and Diarado's Rose Elith, and American Kyle King with Coffee To Go.