Rainbow Youth Centre first opened its doors in 1982, then called the Regina Multi-Service Centre for Youth.
Article content
Dominga Robinson knows the difference youth can make when their voices are heard and listened to, because it's something she herself learned when she was a youth involved with Regina's Rainbow Youth Centre.
Article content
Robinson is the Rainbow's board chair, a role she has held for nearly three years, and she works closely with the executive director to make sure the needs of the youth are met. She's also someone who attended the youth centre as a teenager in the late 90s.
Article content
"It's kind of a full circle moment for me," Robinson said Friday.
Robinson's current gig is not her first stint with Rainbow as she also sat on the board as a youth back then for about a year, a move which got her started on the path of volunteering.
"That opportunity allowed me the space to have a voice. As an Indigenous youth, a youth of colour, not a lot of people cared what I thought," Robinson said Friday.
"But having that opportunity to sit on that board showed me that my voice did matter and that I had the strength to be able to use it and build up my confidence when engaging with these types of entities and helping to guide them in the best ways to assist youth," she added.
Article content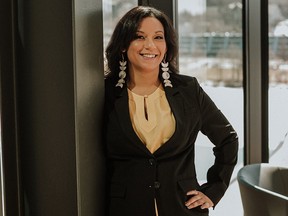 Robinson, a law student, is also president of the Indigenous Law Students' Association at the University of Saskatchewan. In the past, she has worked with the Regina Aboriginal Professionals Association, Common Weal Community Arts and the Street Culture Project as well.
Robinson said prior to her involvement with Rainbow, she wasn't on a great path, getting into trouble and hanging out with others doing the same. The youth centre gave her access to other youths wanting to do better and grow their lives.
"I was able to establish those kinds of friendships that have lasted a lifetime," she said, adding she is still connected to several people she met back then. "Through those relationships, we were able to support each other to take the right path."
Article content
The centre opened its doors in 1982 and on Saturday is celebrating its fourth decade in operation with games, music, activities, a round dance and a barbecue at Parkdale Park, just across the street from the facility on the 900 block of McTavish and Princess Streets. Activities begin at 1 p.m.
The Rainbow Youth Centre offers a variety of programs for youths between the ages of 11 and 29, like group support, mental health supports, skill development, education, recreational and direct services.
Back when it first opened, it was called the Regina Multi-Service Centre for Youth, said Jacqui Wasacase, executive director.
"The most important thing we do here is make sure that each person feels welcome, included, seen, heard and valued," Wasacase said.
Article content
Some youth who came through Rainbow's doors back in the day now have grandchildren attending, Wasacase said. During hiring interviews, people have also mentioned how they attended programs as a kid, she added.
The news seems to be flying at us faster all the time. From COVID-19 updates to politics and crime and everything in between, it can be hard to keep up. With that in mind, the Regina Leader-Post has created an Afternoon Headlines newsletter that can be delivered daily to your inbox to help make sure you are up to date with the most vital news of the day. Click here to subscribe.