For once, Jerry becomes the hero in Episode 8 of Rick and Morty Season 6, much to Rick's annoyance.
Therapy and urine-themed supervillains are combined in the episode "Analyze Piss," a play-up of the 1999 movie Analyze This starring Robert De Niro and Billy Crystal.
Rick and Morty has seen its fair share of ridiculous supervillains (Diesel Weasel, Mr. Nimbus, Story Lord) but perhaps the most ridiculous of all, Piss Master (voiced by Will Forte), takes a surprisingly emotional turn.
Here's a rundown of everything that happened in Season 6 Episode 8 of Rick and Morty, where there was even a hilarious shoutout for Newsweek.
What Happened in Season 6 Episode 8 of Rick and Morty?
The "horny ocean man" Mr. Nimbus (Dan Harmon) was mentioned in the last episode and he's back fighting his enemy Rick at the start of "Analyze Piss." Their battle comes to a mutual end before a B-grade supervillain "Cookie Magneto" approaches them. Not engaging, Rick obliterates him with a ray gun.
After another odd villain challenges Rick, Morty suggests his grandpa looks into why he's seemingly making so many enemies recently. Roll titles.
His first point of call is a place we know Rick hates, Dr. Wong's (Susan Sarandon) therapy room. The resolution from this begrudging session is for Rick to ignore the Rolodex of supervillains for a week.
Whilst practicing his new restraint, the pee-wielding supervillain Piss Master (Forte) arrives at the family home. After he insults Summer, Jerry steps up to fight him and the ensuing, pretty feeble, urine-stained fight ends in a win for the father of the Smith family.
Summer filmed the fight, and Jerry becomes an internet sensation as a result. Rick warns him his victory means more villains will come to fight him but the family boo him for saying so.
The next people to arrive at the house are two beings who reward Jerry with a sticky orb for his bravery. The orb gives "raw power" to Jerry, who'll apparently know what to do. Coaxed into helping, Rick builds a tech suit for Jerry to make the most of his new powers (a suit we've seen for weeks in the opening title sequence).
The kids are impressed while Beth is enticed by his new powers. What could go wrong?
Jerry chooses his first mission using Rick's tech, as he heads out into the galaxy where a group of "Space Hitlers" are convening. Interrupting the Legion of Hitlers, Jerry accidentally blows up the entire planet. Lucky for him, no one else was on the planet and he's hailed as a hero throughout the galaxy.
Unhappy with the way things are going, Rick returns to therapy to complain to Dr. Wong. In a quick turnaround, she convinces him that everything that is happening so far is everything that he wanted—he agrees.
As Jerry and the family continue to reap the rewards from their new situation, Rick settles into his role of taking a backseat. Even the villain Mr. Stringbean (and his rhyming scheme) can't get a rise out of him.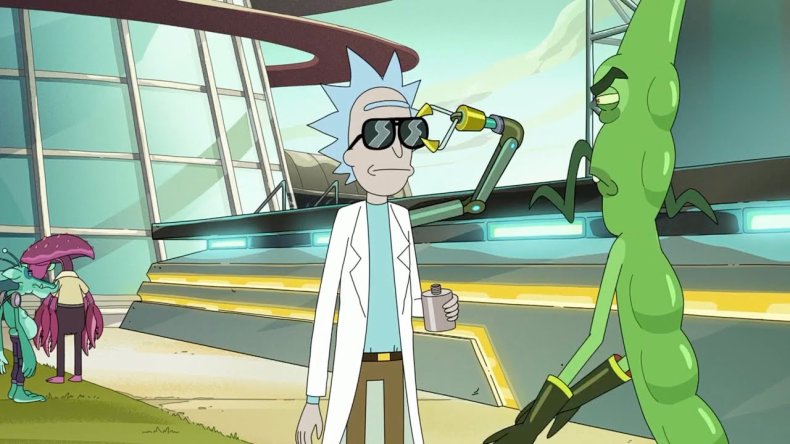 With nothing to do, Rick starts to drink at a bar but overhears a group railing on Piss Master. He decides to pay the defeated villain a visit to investigate his origins, with a six-pack of beer in hand. He arrives to find Piss Master dead with slashed wrists in a bathtub. Rick attempts to bring him back to life, but to no avail. Piss Master's daughter arrives at the house, saying she's worried he'll hurt himself after she said bad things about him on her podcast.
Attempting to make the daughter feel better, Rick wears Piss Master suit, opens the door and tells the daughter that everything is OK. Usually a notable cynic, Rick Sanchez didn't need to get involved but this is another generous gesture by the scientist who may be on something of a redemption arc.
Rick then finds the suicide note, in which Piss Master directly blames Jerry Smith, aka "Flamingo Dad."
Finding Piss Master's tech, Rick rebuilds the weapons, dons the suit and attempts to salvage the Piss Master legacy by fighting crime and doing good.
Rick, as the new superhero Piss Master, makes a number of magazine covers, including Newsweek. He features on our magazine cover for the "Miracle on Ice: New Piss Rink for the Cancer Ward."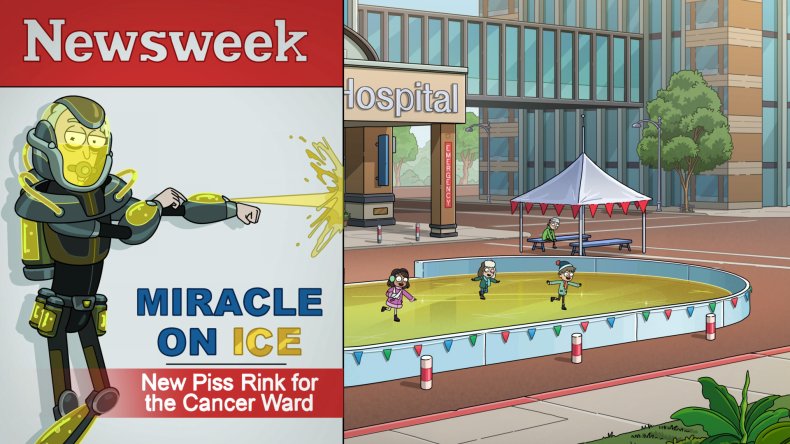 Loving his new identity, Rick tells Wong he plans to plant a bomb in a city, then have the Piss Master suit fly it out on autopilot, seemingly sacrificing Piss Master in the process. Surprisingly, Dr. Wong is on his side, telling him "if it's free and fun, do it. It sounds healthy."
Jerry, still fully invested in the orb superhero lifestyle, is informed that the council will next offer an orb to the Piss Master for his recent good deeds. Jerry is told to recruit Piss Master himself so as not to be petty.
As Rick starts his plan for the self-sacrifice of Piss Master, Jerry arrives to offer him an orb. The two get into a fight which threatens to ruin Piss Master's plans, though he just about pulls it off.
With Rick's identity as the Piss Master revealed, the orb council take away Jerry's orb.
In an attempt to spare Jerry's feelings, Rick doesn't tell him that Piss Master killed himself, and suggests he was the Piss Master the entire time. Jerry is confused but the family think Rick did something nice for one.
Not letting Morty leave without knowing the truth, Rick tells him everything because he had to tell someone. He even kept the suicide note. Morty marches in and hands it to the family straight away, and ultimately, the happy ending instantly fades away in favor of family bickering.
The penultimate episode of Rick and Morty Season 6, "A Rick in King Mortur's Mort" will air on Adult Swim on Sunday, December 4, 2022.