Regina is asking for the greenlight on two more joint-use schools, and White City is looking to build it's first high school.
Article content
School board trustees in the three school divisions in Regina and surrounding area are all awaiting approval on capital projects from the Ministry of Education later this month, including potentially two more joint-use schools in Regina.
Article content
School divisions are allowed to submit three major and two minor capital proposals, ranked by priority, for the provincial major and minor capital funding programs each year.
Article content
Approval of capital project asks from last year will be revealed in the 2023-24 provincial budget, to be delivered on March 22. Project recommendations sent this spring will join the list for consideration in next year's budget.
For consideration in this year's budget, Regina Public and Regina Catholic School Divisions proposed two joint-use school projects in Regina's southeast as top two priorities for major capital projects.
One is a new joint-use elementary school for the Towns and Greens on Gardiner developments and the other, a new joint-use high school that would alleviate enrolment pressures at Campbell Collegiate, Sheldon-Williams Collegiate and Balfour Collegiate. Both projects have been re-submitted for 2024-25.
Article content
Regina Catholic added a new recommendation of a rebuild for Holy Rosary Community School, now set to close in June 2024 due to structural issues. Regina Public is also looking to upgrade remediation at Lakeview School into a full re-life project.
Minor capital projects include a gym addition at St. Catherine Community School, more extensive work to Campbell Collegiate's crumbling foundation in the southwest wing and a basement replacement for Coronation Park Community School.
Regina Catholic is also interested in repurposing St. Peter School, once students move to the North Regina joint-use school, and the facility is empty, to add space to Archbishop M.C. O'Neill Catholic High School.
Prairie Valley School Division, which includes the rural communities that circle Regina, is still flagging a rising need for a high school in White City and Emerald Park.
Article content
"White City is the only community in Saskatchewan with a population of over 5,000 that doesn't have a high school," said Prairie Valley board chair Janet Kotylak.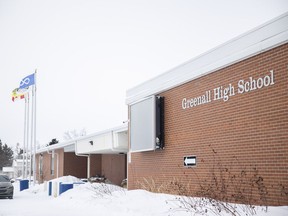 Modernization of Greenall High School in Balgonie is equally pressing, said Kotylak, to offer students improved amenities. Both projects are on deck for possible approval this spring, as well as a third elementary school in White City.
The entire corridor of communities on the Trans-Canada Highway east of Regina is experiencing "immense" population booms, said Kotylak, and it's creating a need for rural schools to keep up.
Greenall School, if built to today's standards, would be 35 percent larger to accommodate the current enrolment of 800 students. Enrolment projections are showing growth still, she added.
Article content
"We know that there's a really frustrating lack of modern high school facilities in this region," said Kotylak.
For 2024-25, Prairie Valley is also looking at consolidating Grenfell's elementary and high school from two buildings into one. That cost, according to board documents, is estimated at $5 million to $10 million and was first submitted as a major capital project back in 2018.
"(Grenfell) speaks to the out-of-date nature of rural education infrastructure, and aging infrastructure. It's been on our radar for a long time," Kotylak said.
Prairie Valley has been advocating for investment to rural education facilities, especially in this corridor, for over a decade. Investment has tended to target the high-growth areas of the province, with multiple large joint-use projects approved in the past five years, which puts focus on larger cities in the province.
Article content
But Kotylak said rural schools are experiencing growing pains and aging infrastructure an an equally as pressing rate as urban counterparts.
"I would argue that with the amount of schools in rural Saskatchewan, they're not keeping pace with the needs there at all," she said. "And we can't keep sort of lipsticking some of these schools."
She's hoping to see more attention paid to rural divisions, like Prairie Valley, in the divvying up of this year's capital funding, as well as just more dollars overall.
"I can't speak strongly enough to that need for balance between the rural and the large urban centers," she said.
"We plan these projects out. We do it with a lot of care, and a lot of it's a good investment for them, and hopefully government will see that."
The news seems to be flying at us faster all the time. From COVID-19 updates to politics and crime and everything in between, it can be hard to keep up. With that in mind, the Regina Leader-Post has created an Afternoon Headlines newsletter that can be delivered daily to your inbox to help make sure you are up to date with the most vital news of the day. Click here to subscribe.