Article content
The Calgary Flames had an opportunity to make up ground in the Western Conference playoff race.
Article content
A golden opportunity, really.
Article content
With the team they're chasing, the Winnipeg Jets, losing earlier on Tuesday evening, the Flames (30-24-14) had a chance to close the gap between themselves and the Jets to four points with a win over the Arizona Coyotes (25-32-11).
They didn't get it done.
Maybe an optimist would say at least the Flames earned a point by losing 4-3 to the Coyotes in overtime, and maybe there's some truth to that.
Article content
But when Travis Boyd buried a rebound after former Flames defenceman Juuso Valimaki had fired a puck on net, it felt like a missed opportunity at Mullett Arena in Tempe, Ariz.
Because at this point in the season, one point isn't enough. They needed both, especially against a non-playoff team who the Flames had already beat twice this season.
Article content
"It's tough, we've been in this spot before. It's getting old," Flames centre Mikael Backlund told reporters in Arizona. "We battled back, but after a big win against the Senators (on Sunday), we should come out with more jump and take charge of the game and play better than we did.
"They're a hot team lately, we knew that coming in, but disappointed we didn't get two points."
The OT loss leaves them five points back of the Jets with 14 games left in the regular season. The Nashville Predators are sitting between the Flames and Jets, too. The path is only getting harder. The hill-to-climb that much steeper. The potential light at the end of the tunnel seems more and more dim with every dropped point.
Tuesday's loss offered little that would suggest the Flames are about to turn things around. Yes, they outshot the Coyotes 45-25, but we've seen the Flames outshoot their opponents so many times this season. The execution wasn't there.
Article content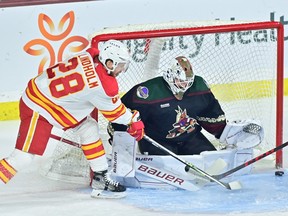 Goals from Mikael Backlund, Walker Duehr and Jonathan Huberdeau helped send the game to overtime after Clayton Keller scored twice for the Coyotes and Matias Maccelli added one of his own. But there were long stretches where the Flames seemed to settle for shots from the outside and couldn't create dangerous chances.
"We've got to come out with a better effort, obviously," Huberdeau told reporters in Arizona. "We did the same thing against Anaheim (last Friday) and tonight here. We've got to get. We got one point, but I think tonight we really needed both."
The Coyotes were the better team in overtime, too, and anyone who watched the three-on-three session would surely have felt the right team got the win it deserved. The Flames definitely didn't look like the team that had more to play for in the extra session.
Article content
It's felt that way so many times this season. The Flames have been close in so many games that they've wound up losing. They lead the league in overtime losses, with 14, and have lost more one-goal games than any other team, too.
"You know what, to be quite honest, you play a complete game, you shouldn't have that many overtime games," Flames head coach Darryl Sutter told reporters in Arizona on Tuesday. "That's one part of it, the other part is you need guys to make a difference. You win faceoffs, you have control of the puck, you get back to make a play … That hasn't been consistent enough, that's for sure."
If the Flames wind up missing the playoffs, as is looking increasingly likely, those one-goal games are going to be what hurts most. Picking up only four of a possible six points from their three games against the Anaheim Ducks, Ottawa Senators and the Coyotes over the past five days will surely haunt them, too.
Article content
The path doesn't get any easier going forward, and they have absolutely no room for error. They head to Vegas, where they've never won, for a game against the Pacific Division-leading Golden Knights on Thursday before returning to Calgary to take on the Dallas Stars on Saturday. The Stars lead the Central Division, for those keeping track.
LOTS TO HANDLE 
When defenceman Troy Stecher was traded to the Flames on trade deadline day, he didn't have a tonne of time to take care of his personal business in Arizona.
He had to hop on a plane and join his new teammates and get started helping with their playoff push, after all.
That meant that when the Flames got to Arizona on Monday, Stecher had some business to take care of.
Although, to be fair, there was something more important to do first.
Article content
"Good to get home and see my dog," Stecher told FlamesTV on Tuesday morning.
There were, of course, some more practical matters to actually deal with.
"Definitely restocking on some clothes," Stecher said. 'Was definitely running low there.
"It's part of the business, I went through it last year so I kind of understood the situation at hand. I think you don't really think about that side when you get traded. You're so eager and excited to go to the new organization. You look at the standings and that kind of occupied my mind. Definitely needed some time yesterday to get home and get some things under wraps and take care of business."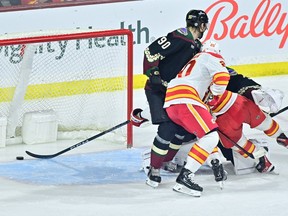 SNAPSHOTS 
There was some confusion as to who had scored the Flames' goal, although it did seem pretty obvious on TV that it was Backlund. There was a slight possibility that the puck had bounced off Blake Coleman, though. Ultimately, replays showed that it had actually bounced off J.J. Moser after Backlund's shot … The Coyotes also seemed to score midway through the second period, but the Flames challenged that there had been goaltender interference and won … Elias Lindholm and Huberdeau both had prime chances to finish the game in the game's last 10 seconds, only for Coyotes goaltender Connor Ingram to both turn both away.