Article content
Darryl Sutter called out his top talents after the last outing.
Article content
He repeated himself after Monday's morning skate in Dallas. 
Article content
Message received. 
In the final seconds of a see-saw affair, with the Calgary Flames in danger of letting another one slip away, two of the big guns delivered.  
Their best playmaker, Jonathan Huberdeau, made a beauty of a pass. 
Their most prolific twine-tickler, Tyler Toffoli, buried on a breakaway. 
Article content
With just 6.2 ticks left on the clock, the Flames had reclaimed the lead. Overtime would not be necessary. Phew. That seldom seems to end well. 
The Flames remain a playoff long-shot — they are now five points out of the second wildcard spot in the Western Conference — but Monday's 5-4 triumph over the Dallas Stars is, finally, something to smile about. It wasn't easy, never seems to be for this bunch, but they snapped a five-game losing skid. 
Article content
"It was a massive win," said Flames defenceman Rasmus Andersson in a post-game interview on Sportsnet 960 The Fan. "When Toff got that breakaway, I was just kind of praying that he would score. And thank God he did. The feeling when you saw the puck go in, it was really nice." 
For a while, there was that familiar sinking feeling. 
Andersson put 'em up by a pair with a bar-down beauty early in the third, but the Stars soon erased that lead. 
Roope Hintz squeezed a backhander beyond Jacob Markstrom on a shorthanded breakaway, then Jamie Benn swiped an offensive-zone faceoff and headed to hang around for a deflection. 
Gulp.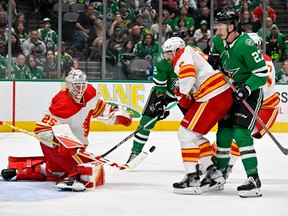 As a grinning Elias Lindholm put it afterward: "We always have to make it a tight game, but it was nice to find a way and get some bounces toward the end." 
Article content
This wasn't so much about a bounce.  
This was a case of Huberdeau and Toffoli, just when three-on-three overtime seemed like a certainty, combining on a clutch sequence. 
MacKenzie Weegar deserves some credit too, since he delivered a big crunch along the boards, forcing Stars winger Ty Dellandrea to hastily unload the puck. It wound up on Huberdeau's stick and he spotted a streaking Toffoli, fresh from a line change, putting the pass right on his tape. 
The Flames' leading scorer didn't let that opportunity go to waste, glancing at the clock to see what sort of rush was required and ultimately sizzling a glove-side shot past Jake Oettinger in the home crease. 
"I took a peek, yeah, at the red-line or right around there and saw that I had enough time to do whatever I wanted," he told Flames TV in Dallas. "And obviously made the right choice." 
Article content
Indeed, he did.  
"I've seen him do that lots," Sutter told reporters at American Airlines Center after Toffoli sniped his 26th of the season — and 219th as an NHLer. "He's clutch always, seen that lots in his career." 
Sutter wasn't quite as complimentary as he explained his line juggling after the morning skate. He had Jakob Pelletier working with Lindholm and Toffoli, while Nick Ritchie logged his Flames debut alongside Huberdeau and Nazem Kadri.  
"If you look at it, and I said it after the game the other night, you have guys that you're counting on to produce some offence that aren't even getting scoring chances barely," Sutter said. "And it's not so much scoring chances — it's offensive-zone time and possession game. You look at Naz and Lindy's line, they've really struggled with that the last two games. They need to bump it up again. 
Article content
"Quite honest, it's up to those veteran guys to take a step with their game," he added. "That's their calling card, so do it." 
Message received. 
Lindholm was also credited with a goal, albeit one that bounced off his body, and Huberdeau and Kadri each collected a pair of assists.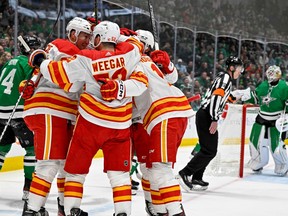 AROUND THE BOARDS 
Toffoli's tally, the hockey equivalent of a walk-off home run, was the second-latest go-ahead goal in the NHL this season and third-latest in franchise history … The Flames' trade-deadline acquisitions both contributed in Dallas — an early strike for Ritchie and an assist for Troy Stecher. Ritchie, who was scratched for Saturday's shutout loss to the Minnesota Wild, made a heck of a first impression, crashing the crease and chopping in a rebound on just his second shift in Calgary's colours. It helped that Oettinger had lost track of the puck, but Ritchie also deserves credit for outmuscling Benn as he was driving toward the blue paint. "I just have to get to the net, like I have been, and hopefully there's some more pucks laying there," he told Sportsnet during an intermission interview … Ritchie's stat-line in his first appearance in the Flaming C logo — one goal, three shots, three hits, a minor penalty and a minus-1 rating in 14:41 of ice time. The new guy in No. 27 also caused some havoc as a net-front presence on the power-play … Look out, Rick Ball and Derek Wills, because Ritchie may also have a future in play-by-play. This was his straight-to-the-point description of Toffoli's game-winner: "That was a good play, a great shot by Toff and game over right there." 
Article content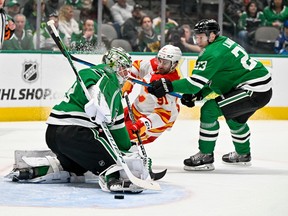 OFF THE GLASS 
Weegar recorded an assist, two shots, four hits and a plus-3 rating. Nice night … Sutter's assessment of his new-look forward combos: "We moved guys around, helped some lines out a little bit. There's still guys on the ice for too many goals against. Just have to work through that." … Markstrom registered 29 saves to earn his first victory since Feb. 18. He did some of his finest work with his left pad — he robbed Jason Robertson on an early rebound, stopped Hintz right before the first intermission and reacted quickly to a spinning shot from Dellandrea. "Finally, we can get Marky a win," Toffoli told Sportsnet. "He played great again tonight, made some unbelievable saves. We just have to try to build on this." … Nikita Zadorov was the other lamp-lighter in the Big D, with Stecher setting him up for a second-period slapper … Dillon Dube was bumped down the depth chart, working as Calgary's fourth-line centre, while Walker Duehr was scratched … The Flames will wrap this two-games-in-two-nights road-trip with Tuesday's rematch against the Wild in Minny (6 p.m. MT, Sportsnet West/Sportsnet 960 The Fan). They'll have to figure out a way to solve Filip Gustavsson, who delivered a 31-save donut Saturday at the Saddledome and was just saluted as the NHL's third star of the week.   
Twitter.com/WesGilbertson