Article content
Calgary Flames puck-stopper Jacob Markstrom had just delivered a stellar third-period performance. 
Article content
From this vantage point, it seemed like a potential turning point after a somewhat shaky start to the season. If nothing else, it was a key ingredient of Saturday's 3-2 overtime victory against the Carolina Hurricanes at the Saddledome.   
Article content
"It was nice to play in the third," Markstrom quipped. 
Ah yes … the Flames' last-line-of-defence had been yanked two nights earlier. 
Article content
That prompted plenty of chatter around Calgary, with folks wondering why Markstrom hadn't been his usual stingy self in the opening stretch of the 2022-23 campaign.  
He was, remember, a Vezina Trophy finalist last season. He hadn't looked it this fall. He finally did in the late stages of regulation against the Hurricanes, providing a dozen saves in a flawless third frame and then one more in overtime. 
Article content
His pals ensured he was rewarded. With 30 seconds remaining in the three-on-three session, Rasmus Andersson bulldozed past two opponents and teed up Tyler Toffoli for a wicked one-timer. 
"Until today, I don't think I've really been where I need to be and I'm still not there yet," Markstrom said. "But right now, it's getting closer. I can feel it and I think everyone else can see it, as well. It's on the right path, just gotta keep grinding and putting in work." 
Of course, a masked man needs a little good luck too, and Markstrom had that on his side Saturday. 
In the final minute of the second period, he was fooled by a wobbler off the stick of Derek Stepan. Thing is, the Hurricanes were offside on the zone entry. That softie was challenged and ultimately disallowed. 
Article content
Markstrom could have been rattled. 
He maybe should have been rattled but as he pointed out post-game, "you need to have short-term memory when you're a goalie in any sport." 
He'll want to remember the third. It was as sharp as he's been all season.  
He denied Jesperi Kotkaniemi, who had just dipsy-doodled around Nikita Zadorov at the blue-line, with his blocker. 
With Blake Coleman sitting a double-minor for high-sticking, he challenged a wide-open Seth Jarvis, suddenly left with nothing to shoot at. 
In between, he somehow managed to thwart Jaccob Slavin on what looked to be a gimme after a beautiful back-door feed by Sebastian Aho. Asked afterward about Markstrom's 25-save showing, Toffoli acknowledged that Slavin was his man on that sequence: "He saved my ass, so pretty good." 
Article content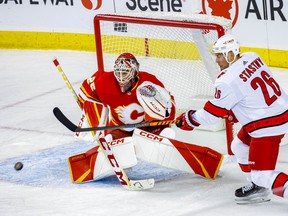 "He was really good all night," Andersson added. "He's a world-class goalie. He's a top-two, top-three goalie in the league, and he proves that night-in and night-out." 
For the past few nights, that hadn't necessarily been true. Markstrom has allowed some groaners over the past week and change, especially noteworthy since it happened so rarely last winter.
Maybe this marked the return of the usual 'Marky.' 
The 32-year-old Swede surrendered two first-period tallies, one on a partial breakaway — Noah Hanifin seemed to be stuck in low gear as Aho cruised past him and cashed on a deke to his backhand — and the other after he'd lost his paddle. A stick would have come in handy as Calvin de Haan's low shot squeezed through his pads. 
Article content
Nazem Kadri and Brett Ritchie scored to erase that damage in a closely matched battle of two teams being billed as could-be Stanley Cup contenders. 
Markstrom's season stat-line now shows a 2.93 goals-against average and .882 save percentage. He is 3-0, since backup Dan Vladar was dinged with the loss in Thursday's bullpen appearance. 
"You don't want to lose two in a row," said Markstrom after the Flames improved to 4-1. "You have to keep winning hockey games. It was a big win for us for us."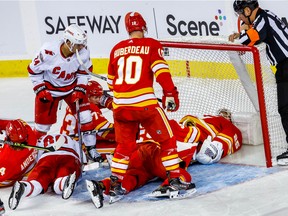 AROUND THE BOARDS 
Sutter on his go-to goaltender: "I think the games are important for him. He has to get on a roll, right? He has to play games and our schedule this next week is two in nine days or whatever. We've practised more than we've played. Guys like that, they have to play games" … Kadri extended his welcome-to-Calgary point-spree with a power-play goal, depositing the rebound after a deflection by Toffoli. The marquee free-agent signing is just the fourth new face in franchise history to introduce himself to Flames fans with a season-opening scoring streak of five games or more. The others on that list? Phil Housley, Sergei Makarov and Sean Monahan. Good company … Ritchie struck from an awkward-but-not-quite-impossible angle early in the second. The fourth-line thumper fired from near the goal-line in the corner, catching visiting netminder Antti Raanta by surprise with a shot that banked off his left leg … With a helper on Kadri's man-advantage marker, Andersson earned his 100th career assist. He made it 101 in overtime. "It means a lot," Andersson said of the milestone. "It was fun to get it. But honestly, it was just nice to get a win." … Andersson, by the way, logged a game-high 27:47 … The Flames killed off eight minutes of penalties, including Coleman's double-minor in the third. "That was huge for us and after that, we grabbed the momentum," Markstrom said. 
Article content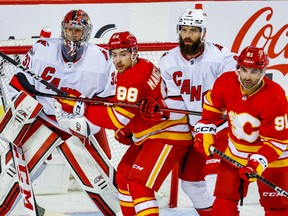 OFF THE GLASS 
Hanifin returned to the home lineup after missing one game due to illness … Whenever the Hurricanes come to town, you can't help to harken back to the June 2018 trade that landed Hanifin and Elias Lindholm in Calgary. In fact, they're now among the longest-serving skaters at the Saddledome. Lindholm has suited up for 294 contests in the Flaming C logo, while Hanifin is at 282. Among the current cast, only Mikael Backlund (831) and Andersson (303) have logged more appearances on behalf of the franchise. "That's the league now," Lindholm said. "I think you stay on a team for a few years, you're going to see a lot of new faces and that's what happened. But I really like it here. It's been good" … Connor Zary potted a pair, Matthew Phillips notched the game-winner and Dustin Wolf delivered 33 saves on Saturday as the AHL's Calgary Wranglers earned their first victory of the season — a 4-2 doubling of the host Colorado Eagles. The Wranglers are now 1-3 … The Flames will welcome Sidney Crosby and the Pittsburgh Penguins for Tuesday's tilt at the Saddledome (7 p.m. MT, Sportsnet 360/Sportsnet 960 The Fan.).