Article content
Chris Tanev isn't the type of guy who stays down on the ice.
Article content
So his Calgary Flames teammates knew that something serious was going on when he was lying on the ice after taking a puck to the head during Monday night's tilt with the Montreal Canadiens.
Article content
Fortunately, though, it appears Tanev may have avoided the worst-case scenario.
The defenceman was seen walking around the Scotiabank Saddledome on Wednesday morning and head coach Darryl Sutter said that the team had received encouraging news about Tanev's health.
Article content
"He's better, yep. Getting better, just going day-to-day," Sutter said. "Thankful there's no fracture."
Tanev didn't skate with his teammates at Wednesday's practice and was scheduled to miss the Flames' game against his former team, the Vancouver Canucks, on Wednesday evening.
Article content
There's no official timeline for when he might get back in the lineup, but again, everyone at the Saddledome is currently just grateful that a scary situation wasn't any worse.
It certainly could have been. Tanev had to be helped off the ice on Monday after getting hit by a Nick Suzuki slap shot while killing a 5-on-3. It was one of those situations where everyone in the rink and watching on TV takes a deep breath and hopes for the best.
"He's a warrior, he's one of our leaders, he's a guy that brings it every day and doesn't complain, just shows up and goes about our business," said Flames forward Blake Coleman. "I haven't looked at the stats but I would imagine he's maybe at the top, if not right there, for shot blocks for this team. It's just a big part of the game he brings, he just does the little things right, he's tough, he sacrifices for us and unfortunately that one caught him in a tough spot.
Article content
"But to nobody's surprise he's back here today and looking good and already eager to get back in. It's good news that he's OK but you can't speak enough about the toughness he brings to our team."
With Tanev out, the Flames will have to mix-an-match their defencemen a little bit, but the way the pairings were shaking out wasn't nearly as important as the good news that Tanev didn't suffer a skull fracture.
When you see a teammate get hit in the head with a puck the way Tanev got hit, their health is what matters above anything else, and there was a lot of relief in the Flames dressing room after they got the good news.
"It's scary. He's your teammate but he's also your friend. He's a good buddy of yours," said Flames defenceman MacKenzie Weegar. "The first thing you want to do is go see if he's OK, and thankfully he was and, you know, he's a warrior. Everyone in Calgary knows he's a tough, tough guy. For him to go down like that is obviously tough to see."
Article content
That respect for Tanev's toughness is universal in the Flames locker room. This is a guy who had shoulder surgery and was expected to be out for as long as six months this year, only to return to the ice in time for the start of training camp. He's played hurt multiple times in his career, and his teammates know that.
They respect it, but it's also why they realized something serious was going on when he stayed down on the ice during Monday's game.
"It's not good, no matter who it is in that situation, but especially with Chris, he doesn't lay on the ice so that was obviously not a good sign," said Flames defenceman Michael Stone. "But it's good to see him alright and feeling better."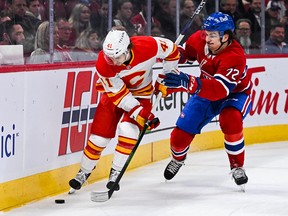 WANTING MORE
The Flames gave Matthew Phillips and Radim Zohorna a look on their weekend road-trip.
On Wednesday, Sutter indicated that he wanted more out of both players.
Neither player collected a point and while there is considerable excitement about them among the Flames fanbase, Sutter said they need to step up their games going forward.
"We liked the way we played, but we brought guys up and put guys in from the press-box that we need more from," Sutter said. "It's not just the trip, it's a heavy stretch, we need more out of those guys.
"You need guys to not just be popular, you need them to be good."