Article content
Nazem Kadri, another marquee addition for the Calgary Flames, was thinking Thursday about the view from the top.
Article content
And not just the Instagram-worthy panoramic from the summit of the iconic Eiffel Tower in Paris, where he is currently vacationing with his wife. 
The view, rather, from the NHL's most envied vantage point — that of a Stanley Cup champion. 
This has been a summer of celebrations for Kadri, fresh off a title run with the Colorado Avalanche. The 31-year-old centre is now hoping to repeat that feat in Cowtown. As the last remaining big name on the free-agent market, he inked a seven-year, US$49-million contract Thursday with the Flames.    
Article content
"That's ultimately what you want — playing in the playoffs and playing in those big-moment games," Kadri told Flames TV from France. "Having won already, I think it just gives you an insight about the pinnacle of where you're supposed to be and it's addicting, really. You want to get back there.  
Article content
"Of course, that was pretty high on my list — to go to a competitive team that I think could make some noise right away. That's Calgary for me." 
Brad Treliving's great summer salvage continued Thursday with the addition of Kadri, who will earn $7 million per season and should slot in as second-line centre at the Saddledome. 
To create the necessary cap-space, the Flames traded Sean Monahan to the Montreal Canadiens in a salary dump, packaging the 27-year-old pivot — recovering from a second hip surgery — with a conditional first-round selection in the 2025 NHL Draft. 
"I think we made our team better by adding Naz," Treliving said. "And that's nothing against Mony at all." 
Every organization is looking to add championship know-how. What's especially significant in Kadri's case is that he wasn't one of the supporting-casters in Colorado. He was a go-to guy, a crucial contributor. 
Article content
The Avalanche simply couldn't afford to keep him.  
"He had choices," Treliving said. "We spent a lot of time talking to Nazem over the last little bit. You know, the money is one thing, but he talked about the team and where you see it going and how he fits. He's been around, so he knows …  
"I've always found the players know first, right? The players know who the good players are. The players know when the team is good and when it's not good. And, you know, he was excited about the team. The thing that he said to me is he had been chasing that Cup for a long time, he won it this year and now it even gives you more of a hunger. You feel like it's yours and you don't want to let it go. He's eager to get back at it." 
Flames fans are oh-so-eager for that Oct. 13 opener at the Saddledome, an immediate measuring-stick matchup against Kadri's old club.  
Article content
There's been some heartache for the C of Red this summer with the departure of previous fan favourites Johnny Gaudreau and Matthew Tkachuk. 
But Treliving made lemonade, adding the NHL's assists leader from 2021-22 in Jonathan Huberdeau, a workhorse defenceman in MacKenzie Weegar and now another top-six centre. During that interview with the team website, Kadri referred to the Flames' off-season overhaul as "a great rebound," an accurate assessment of Treliving's work over the past few weeks. 
The newest of the new guys racked up 28 goals and 87 points in 71 outings last winter with the Avalanche. His playoff stat-sheet featured seven tallies, eight assists and one engraving. There's no doubt that he provided a boost when he returned to Colorado's lineup for Game 4 of the Stanley Cup final after missing four dates due to thumb surgery. He scored the overtime-winner that night.  
Article content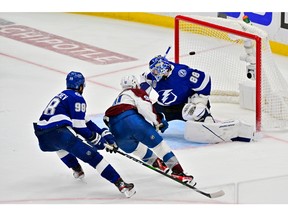 "That was probably a six-to-eight-week injury and I think he was back in 13 or 14 days," Treliving said. "He's a competitor. When we were doing our homework on him, the thing that kept coming back is he's just a winner. He's got that attitude and he's got that aura around him that he's here to play for keeps, and I think he's going to fit in great with our group." 
Kadri, who has totalled 512 points in 739 regular-season appearances at the NHL level, won't require much of an introduction when he arrives for training camp.  
"When you talk about guys you hate playing against and a real pain in the butt to play against, those are usually the guys you want on your side," Treliving said. "And I heard a lot of that when I talked to our players." 
He's one of the Flames' players now, signed through the end of the 2028-29 campaign.  
After some sightseeing in Paris, perhaps a snapshot from atop the Eiffel Tower, Kadri will next return to his hometown of London, Ont., for his personal day with the Stanley Cup. 
Hopefully, it won't be his last celebration with that treasured trophy. 
"I obviously like the direction of the team," Kadri told Flames TV. "I think our centre combos can match up with anybody. We have obviously great depth on defence and exceptional talent in goal. I think all those are key factors in having a successful team, and I'm just thankful I get to be a part of that."