In her cookbook debut, Budmo!, the chef and culinary instructor showcases a varied and vibrant cuisine
Get the latest from Laura Brehaut straight to your inbox
Reviews and recommendations are unbiased and products are independently selected. Postmedia may earn an affiliate commission from purchases made through links on this page.
Article content
When chef and culinary instructor Anna Voloshyna first conceived of her cookbook debut, Budmo!, she thought of it as a "love letter to Ukraine." A way of enticing more people to visit her homeland and experience its wonders for themselves.
Article content
Budmo (let us be) is Voloshyna's favourite Ukrainian word. "Fierce and vigorous," people often shout it out when raising a glass. This celebratory connotation suited her original goal perfectly.
After two and a half years of work, though, Budmo! is being released into a very different world. In the face of Russia's ongoing war in Ukraine, her intentions with the book shifted.
"The whole meaning was, 'This is how we celebrate in Ukraine.' And then I thought, 'Okay, we'll celebrate when we win the war,'" she says. "Now, I just want to show how beautiful my country is. I want to show this is what we are fighting for, and this is something we are trying to preserve."
Article content
Voloshyna was born and raised in southern Ukraine, and moved to San Francisco, Calif. from Kyiv in 2011. After her hometown of Snihurivka was occupied by Russian forces in March, her family sought safety in Odessa.
(According to a Russian Telegram channel, Ukrainian troops recaptured Snihurivka on Oct. 5, Newsweek reports.)
"I'm happy that they're (in Odessa) and safe. But overall, it's a heartbreaking experience," says Voloshyna.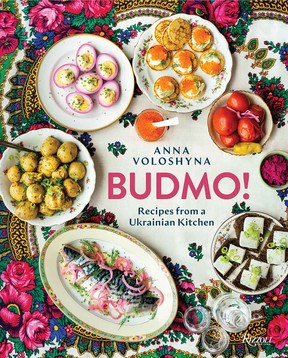 Since the beginning of the war, food has been part of the fight. Cookbook authors, chefs, bloggers and bakers have joined global movements such as #CookForUkraine and #BakeForUkraine to raise funds for organizations providing resources.
From her first social media post, Voloshyna received "overwhelming" support. By hosting pop-up dinners, cooking classes and bake sales, she has raised more than $70,000 US ($95,660). A chef-led event she was involved with raised another $50,000 US ($68,340).
Article content
"We sent so much money to Ukraine, and I'm grateful," says Voloshyna. "It was just by selling varenyky (dumplings) or by teaching how to make borscht. I hope people will keep up with that and will still be interested in Ukrainian cuisine."
Her publisher, Rizzoli, donated 10 per cent of Budmo! pre-sales to chef José Andrés' World Central Kitchen, which has been feeding Ukrainians since the start of the invasion on February 24. Omnivore Books, Voloshyna's local cookbook store in San Francisco, donated 20 per cent of pre-sales to Ukrainian aid.
"Because of this book, I was able to raise so much money. I never imagined I could do that and help Ukraine. So, that makes me very happy," says Voloshyna. "And honestly, my family there are so proud, and this is another way for them to feel joy. They are supporting me a lot."
Article content
Awareness of Ukraine has increased as a result of the war, she adds, but many people still have misconceptions about the cuisine. Yes, Ukrainians appreciate cabbage, potatoes and varenyky — but there's so much more.
Ukrainian food is vibrant and varied, Voloshyna underscores. Renowned for its fertile chernozem (black soil), the country is strategically located on the Black Sea coast. Centuries of invasions and occupations (including at the hands of the Mongol Empire, Polish-Lithuanian Commonwealth, Tsardom of Russia and Austria-Hungary) have left their mark on Ukrainian culture.
This is about the beauty of Ukraine, and this is about our fight.
When she was growing up, food was hyper-local and fresh. "We always supported the farm-to-table movement. We did that way before it was cool," says Voloshyna. Her family often bought food from small farmers, who might have one cow, for instance, and sell its milk at the market each morning.
Article content
In Budmo!, she shares the Ukrainian farm-to-table experience and introduces key flavours, such as sunflower oil. ("It's very much under-represented here.")
She realized from an early age that poultry didn't come from the supermarket — it came from her grandmother. "I know that when Grandma says we're having duck for dinner, the biggest one is getting the chop," says Voloshyna. "So, I know the connection and I wanted to show it to people."
In California, she's "spoiled with good produce" year-round, but is thankful that her mother and grandmother taught her how to ferment, pickle and otherwise preserve food, the subject of one of the book's chapters.
Food has always been an important part of Voloshyna's life, but it wasn't until she moved to California that it became her career. Surrounded by strangers, cooking was her way of connecting. She started inviting people over for meals and sharing recipes, which helped make San Francisco her home.
Article content
Since her first pop-up dinner in 2017, Eastern European cuisine has only become more popular. Cookbook authors such as Zuza Zak, Alissa Timoshkina, Olia Hercules and Irina Georgescu have helped educate people on the nuances of the region's cuisines.
Once you start exploring, the variety becomes increasingly apparent, says Voloshyna. The more people spreading the word, the better.
"I am so glad that right now, there are many voices that can say, 'Okay, this is Lithuanian cuisine. This is Hungarian cuisine. This is Russian cuisine. This is Ukrainian cuisine.' And we have many similar dishes, but they're all so different still," she adds. "We hear more voices, and those voices are so beautiful."
Article content
In Budmo!, Voloshyna features childhood favourites from southern Ukraine, dishes from her pop-up dinners and modernized recipes she developed to make the most of California produce. She's happy with the recipes she chose to include but plans to dive deeper into the history of Ukrainian cuisine for her next book.
To create something modern, you need to go back to your roots, she says. Voloshyna is part of a new generation of Eastern European chefs looking to the past for inspiration. She expects that after the war, people will be even more interested in learning about the pre-Soviet food of Ukraine.
Living in the United States, Voloshyna has often heard people conflate Ukraine with Russia. She sees Budmo! as an opportunity to illustrate what makes Ukrainian food culture special.
Article content
"This is about the beauty of Ukraine, and this is about our fight," says Voloshyna. "Please support us. Cook our dishes. Promote Ukrainian culture, and just take the time to learn something about Ukraine. It's not Russia."
Many recipes and cookbooks were lost when Ukraine was part of the Soviet Union (1922 to 1991), Voloshyna says. Before Soviet times, Ukrainian cuisine was "very different"; she wants to bring it back.
In the meantime, she will continue helping Ukraine resist Russia's invasion from afar. Though Ukraine is gaining ground, the war is not over, Voloshyna emphasizes, and her country needs support.
"I know that we will win the war. There is no question about that. And I want to bring more people to Ukraine and execute my original plan," she says. "I want to go there with people and show them: 'Here we will eat pyrizhky (fried or baked yeasted pastries), and here we will eat varenyky, and there we will eat borscht.' And have fun and enjoy life."
Get the latest from Laura Brehaut straight to your inbox