Key events
Gauff has a chat on court: "It feels insane. Ashe Stadium chanting my name … I was trying to stay in the moment … I can't believe you guys were chanting like that, it was crazy!"
On the conditions: "I'm from Florida, so the hotter the better."
Gauff beats Zhang! 7-5, 7-5
Gauff gets it done. That was phenomenal.
Zhang 5-7, 5-6 *Gauff (*denotes next server)
Steely, steely determination and no little skill from the superb Gauff. She breaks – and she can serve for the match.
*Zhang 5-7, 5-5 Gauff (*denotes next server)
All square again. If this goes to three sets, the evening session will be delayed.
Zhang 5-7, 5-4 *Gauff (*denotes next server)
But hang on a second! Gauff hits straight back with her own break of serve, playing some stunning stuff along the way. Martina Navratilova, on commentary, says that Gauff "is out-physical-ing" Zhang. "Is that a word," she wonders?
"It is now," replies Mark Petchey.
*Zhang 5-7, 5-3 Gauff (*denotes next server)
Zhang breaks, and will serve for the second set! This is going the distance, it would appear.
Zhang 5-7, 4-3 *Gauff (*denotes next server)
Zhang holds to love, confidently and impressively.
*Zhang 5-7, 3-3 Gauff (*denotes next server)
All square again. Can Zhang force this to a decider?
Zhang 5-7, 3-2 *Gauff (*denotes next server)
A remarkable game in which Zhang collapses from 40-0 up all the way to a couple of break points for Gauff. The American continues to run down balls that other players would simply not get near. Anyway, Zhang clings on to hold serve and lead again.
*Zhang 5-7, 2-2 Gauff (*denotes next server)
All square in the second set – but Gauff is now pushing to break her opponent in the fifth game …
*Zhang 5-7, 1-1 Gauff (*denotes next server)
Showing some astonishing speed around the court, along with a healthy does of aggressive shot-making, the home favourite saves a couple of break points and holds.
Thanks Daniel. Hello all. We'll keep this blog going until the end of Zhang v Gauff, before the new blog comes along for Nick Kyrgios v Daniil Medvedev. On which note, Zhang leads 1-0 in the second set having held to begin, and she now has a break point …
Oh, I tell a lie – Luke McLaughlin is going to bestow more lovely tennis upon you. Enjoy!
The second set of that should be a goodun and Carreno Busta v Khachanov is just getting going too. But my watch is over, so it's goodnight from me … but not from us. We'll be back very soon for Medvedev [1] v Kyrgios [23] – that match starts in just two hours. Peace out.
Gauff is bang at it now, bouncing through her hold to 15, and she takes the first set off Zhang 7-5! That was a decent match, but like Davidovich Fokina v Berrettini, class told when it really needed to.
Gauff holds for 5-5, but when she makes 0-15 she spanks a forehand long. No matter; she patiently climbs to 30-40, opens shoulders on a backhand, and Zhang goes long! 6-5 Gauff, and after change of ends she'll serve for the first srt.
Zhang is playing with great tenacity and no little skill, breaking Gauff back then holding for 5-4. This set has been really interesting and we've not yet reached its best bit.
Garcia says she was trying to play her game and be aggressive, but the first set she struggled to control her emotions; she was much better in the second, and has now won 12 matches straight. She wants to go for her shots even when she's tight and really enjoying playing that way; she's also looking forward to the doubles tomorrow.
Caroline Garcia [17] beats Alison Riske-Amritraj 6-4 6-1!
She needs a succession of deuces to do it but is playing beautifully at the moment. She meets Gauff or Zhang in her first US Open quarter, and leaps about the court in traditional fashion. She's looking great.
A belter of a point from Gauff secures her a break, a brilliant get – Zhang should've done more with her next shot but still – facilitating a punishing forehand followed by a backhand winner. Gauff leads 4-3.
Since nailing that winner on set point, Garcia has been irresistible, and she secures the double break for 5-1; she'll now serve for the match…
I'm enjoying Gauff's rig and she plays an inside-out backhand to match, clouting from centre to forehand corner and the clean winner saving another break point. she secures the hold for 2-2 while Garcia leads 6-4 4-1 and is totally dominating.
Wow! A glooorious forehand from Gauff, chasing down a drop and sending the ball hurtling cross-court an inch over the tape, raises two break-back points … and she takes the second, punishing an inside-out forehand into the corner! we're back on serve, Zhang 2-1 in front.
Gauff comes in but gets too low and nets a backhand, giving Zhang break point; Gauff saves it, but can't save the next, so Zhang leads 2-0! Elsewhere, Garcia consolidates for 6-4 3-0, and Riske-Amritraj is in big trouble.
On Armstrong, we're ten to done. Garcia didn't play great in the first set, but such is her confidence currently, she took it anyway, and has broken to love for 2-0 in the second. it's a long way back from here for Riske-Amritraj.
We're away on Ashe and Gauff takes Zhang to deuce. And though, after winning a 21-shot rally for advantage – that augurs well for a buzz of a match – Zhang can't convert, she soon secures her hold via backhand winner cross-court.
Riske-Amritraj goes long on the forehand to give Garcia 15-all, then a double fault puts her within two points of the set. And, well, oh dear – a backhand shanked long means two set points. And Garcia doesn't wait to be asked, clattering a forehand onto the line to give her a 6-4 set, her seventh out of seven in this competition. She is steaming hot at the moment!
It's mad to think that Gauff is still only 18, while Zhang, 33, has found her best form in her dotage. She won't make this easy. Meantime, Garcia now leads Riske-Amritraj 5-4, on serve, but now has scoreboard pressure on her side.
Before Gauff arrives on court, Mark Petchey and Martina discuss that her forehand might not be strong enough to win here – though it's improved. Thing is, though, this is women's tennis, the least predictable sport in the word, and no one's got a clue what's going to be. But here come the players!
Leading 3-2 but trailing 40-0, Garcia plays a gorgeous little drop. I doubt it'll help her much in this game, but it suggests she's finding her rhythm – though Riske-Amritraj quickly closes out for 3-3.
On Armstrong, Garcia had to save a variety of break points but she and Riske-Amritraj are now at 2-2 in set one.
Next on Ashe: Shuai Zhang v Coco Gauff [12]
Ruud says Moutet is a tricky player with a variety of shots in his arsenal, but is pretty happy with his performance. Moutet played in the third, but he served well and enjoyed his Ashe debut – he looks forward to telling his kids and grandkids about it. He thinks the speed of the courts is slower than when his dad played – they've done the clay-court specialists a favour, he reckons – and is, he tells us, a huge golf fan. He also looks like the fourth McGann brother and is the first Norwegian into a US Open quarter.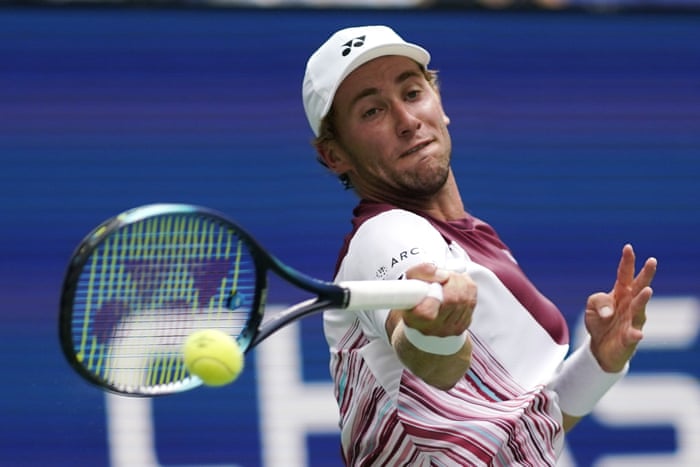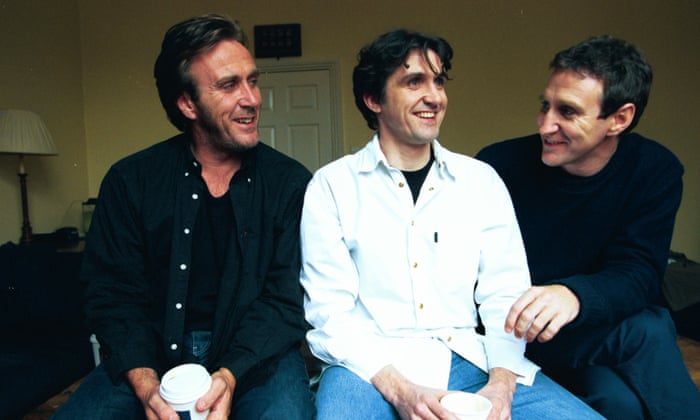 Casper Ruud [5] beats Corentin Moutet 6t-1 6-2 (4)6-7 6-2!
He'll be annoyed that he got careless so had to play an extra set, but he meets Berrettini next – that should be a decent little go-around.
Not for the first time, Moutet has lost the heid, but from 15-40 he makes deuce, saving two match points in the process. No matter, Ruud forces another and this time a Moutet forehand clips the net and sails wide!