'It's going to be cool, obviously, seeing somebody on the other side that you looked up to when you were younger. It's a cool thing'
Article content
PITTSBURGH — Adam Ruzicka was playing it cool. He had to.
Article content
When you're still trying to establish yourself as an every-nighter at the NHL level, you certainly don't cop to being starstruck by an opponent.
Article content
But Wednesday, no doubt, was special for Ruzicka. Pinch-me sorta stuff. With the Calgary Flames pit-stopping in Pittsburgh for a date with the Penguins, he was facing his childhood idol, Evgeni Malkin, for the first time.
Article content
The 23-year-old from Slovakia wasn't planning any sort of formal introduction.
"What am I going to say?" Ruzicka asked. "He just played his freakin' 1,000th game."
Indeed, Malkin hit that career milestone this past weekend. 'Geno' is a three-time Stanley Cup champion, an eventual Hockey Hall of Fame shoo-in and still a force at 36. His hardware collection includes replicas of most of the NHL's marquee individual awards — from the Hart and Art Ross to the Calder and Conn Smythe.
Article content
For a power-forward-in-progress, the Russian dynamo was a heck of a role model.
"Similar play style, height, same body type, same attitude … " Ruzicka reasoned. "It's his confidence, right? As soon as he stepped in the league, he was a dominant player, right off the hop. That's the main part.
"It's going to be cool, obviously, seeing somebody on the other side that you looked up to when you were younger. It's a cool thing."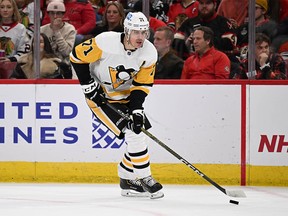 This storyline probably sounds familiar for Flames speedster Dillon Dube. He also admired a Penguins centre, although Sidney Crosby was his hockey hero.
Dube's first showdown with Sid came in just his ninth NHL outing. He even earned an assist … in a 9-1 loss. Crosby piled up three points that night.
Article content
"I was pretty nervous," Dube recalled. "We didn't have a very good game that night. They beat us pretty bad. Definitely not the memory I wanted.
"But it's cool. You know, you look up to guys like that when you're growing up and playing against them, you get excited for it. As a kid, you dreamed of this and now playing against them more and more, you get used to it, for sure."
Ruzicka, currently being auditioned alongside Elias Lindholm and Tyler Toffoli on the Flames' top trio, is determined to become a lineup lock. This season, remember, didn't start that way. He could have gone up against Malkin last month, except that when the Penguins paid their annual visit to Calgary, he was stuck spectating as a healthy scratch.
While it's not unheard of to ask a starry opponent for some sort of memento, Ruzicka had no such plans in Pittsburgh.
Article content
"I don't need a stick," he protested. "I'll just know that I met the guy already, so it's fine with me."
Flames veteran Mikael Backlund wasn't able to score a keepsake twig from his idol, either, although he did — via equipment manager Mark DePasquale — put in a request during his rookie campaign.
"When I was young, Peter Forsberg and Teemu Selanne were my two favourites," Backlund said. "I got to play against Selanne a few times. The first time was in Calgary, and I remember that was really cool.
"I asked him for a stick but he didn't want to give me one because I guess when he was younger, a coach from another team asked for a stick and then he measured it and (the curve) was too high. I remember asking DePo to check on it and he said no, unfortunately. But I have a hat at home with his signature, so that's pretty cool."
Article content
And Forsberg?
The 33-year-old Backlund, the longest-serving skater on the Flames' payroll, lets out a sigh.
"He retired the day we were in Denver," he said. "I walked into the Pepsi Center, that's what it was called back then, and he announced that he'd retired, just before their morning skate or after their morning skate. I was disappointed. It would have been great to get to play against him. I'm sure he was really hard to play against. It would have been a tough night probably, but it would have been really cool to play against my biggest Swedish hero.
"It's too bad I missed out on that one. He was trying to come back and he played a few games and I was really excited. But then, yeah … retired."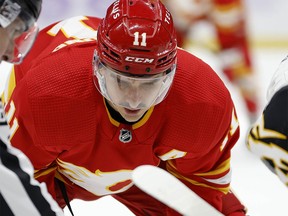 There was no surprise announcement Wednesday in Pittsburgh, where Malkin was honoured prior to puck-drop for joining the 1,000-game club.
Article content
Ruzicka's career counter is now up to 40 big-league loggings. This latest, his first head-to-head with his idol, is one he won't soon forget, even if he had to play it cool beforehand.
While he wasn't much in the mood for reminiscing, Flames skipper Darryl Sutter singled out the likes of Lanny McDonald, Darryl Sittler and Bobby Orr as guys that it was special to go up against when he was breaking in with the Chicago Blackhawks.
An up-and-coming Milan Lucic would watch Hockey Night in Canada and marvel at the talent and toughness of Todd Bertuzzi and Jarome Iginla. A few years later, he was rubbing shoulders with them.
"And I still remember my very first time, as a 19-year-old, playing Pittsburgh," said Lucic, now 34, after Wednesday's morning skate. "I know that Malkin and Crosby are my generation, the same age basically, but I remember looking over at them and thinking, 'Oh wow, there's Crosby and Malkin,' which is also a pretty cool thing.
"It's cool to play against future Hall-of-Famers and guys you look up to and you just want to go out there and try to beat 'em."
Twitter: @WesGilbertson